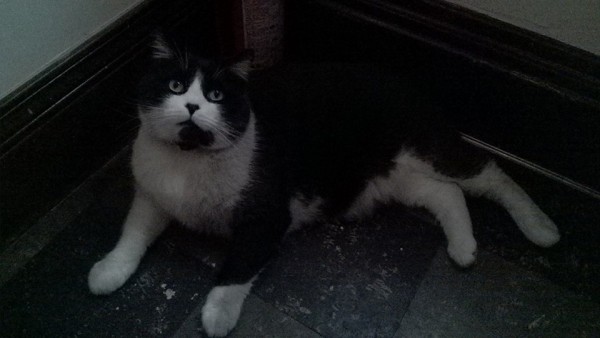 From commentor ImOnlyLurking:
This is Bob. He was just outside rolling his chest fur in the dirt, because that's how he rolls.

Bob is weird.
After precipitating for eight straight days to start the month (not even proper groundwater-rechanging rain, mostly nasty raw mizzle), the weather is now just about perfect here, sunny and in the high 60s with a mild breeze. So I'm finally getting a proper start on post-winter yard cleanup, and it's actually kind of enjoyable. Although it would make me even happier if there were fewer godsdamned oak trees around — I knew this town was founded to take advantage of turning oaks & pigs into salt pork & tanned hides, but when we bought the house I hadn't grokked how annoying it would be to deal with the oak pollen and drifts of acidic dead leaves every year. (They eventually got rid of the pigs, but we're still dealing with the Superfund sites rooted in 375+ years of toxic chemical use.)
If you've got any good pet pictures, this would be a fine time to send me jpgs (click on my name in the right-hand column, or annelaurie at verizon dot net). It's gonna be a long six months till the election and we'll need all the mood-lifters we can get!
***********
Apart from that, what's on the agenda for the day?