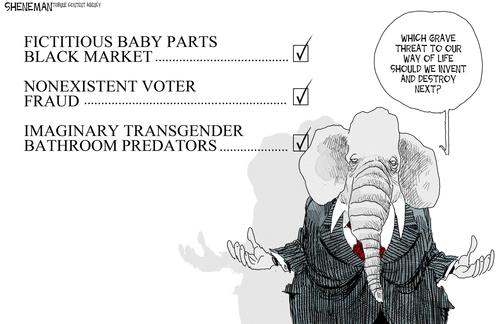 Back in the Morning of America, when the Moral Majority ruled the land (or at least the cable news networks), a Repub pol looking for cheap publicity could count on Newt Gingrich or Jerry Falwell to provide attention-catching scare topics for every election. Alas, the dogs bark but the caravan moves on. The situation has gotten so far out of GOP control that godless sophisticates like Ed Kilgore can ask, "Are Republicans Falling Into a Democratic Trap on Transgender Bathrooms?":
I first began to suspect Democrats of throwing chum into troubled waters on transgender-bathroom labeling upon reading reports that conservatives were determined to launch a platform fight at the Republican convention to make sure "bathrooms" were an important part of the GOP agenda. Yeah, bathrooms. Ridiculous, right? Not if you are a conservative religious activist who believes LGBT rights opened the gates of hell and are ushering in the End Times. I'm sure more than a few Christian Right folk heard about criticisms of the North Carolina bathroom access law and thought: This is what we've been talking about all these years…

It's unlikely a whole lot of swing voters care that much about this issue one way or another, and those who think about it for five minutes probably figure the administration's approach was a reasonable solution to a small but unavoidable problem. But even as they (and the schools, and the country) move on, conservative activists will remain transfixed, fighting for new bathroom labeling laws in the many states they control, fighting for platform planks, fighting with Republican politicians who are embarrassed by the whole thing, and maybe even fighting with each other on how to fight this new exotic import from Sodom and Gomorrah. This could even become a Terri Schiavo moment, wherein many Americans discover once again that the Christian Right and the political party in its thrall just don't look at the world the way the rest of us do.
If you look at the NYTimes article Kilgore cites, it's actually (surprise!) revanchist Ted Cruz supporters sniffing to be sure that Potty Patrols remain enthroned in the RNC's 2016 platform — i.e., it's not so much this election they're targetting, but future ones (not least Sen. Cruz's 2018 senate re-election and 2020 WH run). Unfortunately for Failgunner Ted, barring some very weird social changes, it looks like 1970s-style anti-ERA rallies against unisex toilets! can no longer be counted upon, outside of an angry rump.
Even more wounding for the feelings (and the cheap votes) of Amurka's True Conservatives, legacy Congressman Duncan Hunter just tried a similarly time-tested plan to derail equal opportunities for women in the military, per the Washington Post:
"Right now the draft is sexist," said Rep. Duncan D. Hunter (R-Calif.), who filed an amendment to the House's annual defense authorization bill to require women between the ages of 18 and 26 to register for the Selective Service, the government agency that keeps records of who is eligible to be conscripted.

Hunter, who is against the Obama administration's recent policy change allowing women to serve in all combat roles, said he proposed the measure only to start a discussion about the draft. He voted against his amendment, arguing that anyone who favored it would be siding with the administration.

But Hunter's gamble that committee members would shy away from forcing women into the draft backfired when a slim majority — including five Republicans — opted to endorse the measure by a vote of 32 to 30…

Senate Armed Services Committee Chairman John McCain (R-Ariz.) said he is open to the idea…
The measure was approved this week by the Senate Armed Service Commission. Shortly after Donald Trump "snubbed" early supporter Rep. Hunter, and his ungrateful hometown media discussed "Hunter's questionable outlays of campaign funds." No respect for the time-tested methods of the founding forefathers…
Hey, I wonder if Hunter's ill-timed 'protest' will have any effect on Tammy Duckworth's attempt to take over Mark Kirk's Senate seat?