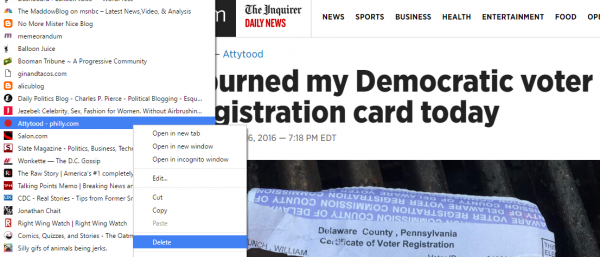 No, not really. But one histrionic, illustrated account of a meaningless personal gesture deserves another, and Will Bunch's "I burned my Democratic voter registration card today" is a dramatic chipmunk of a post:
[A]s a concerned citizen and a progressive independent voter, I'd love to see an open convention and an honest debate about the future of the Democratic Party here in Philadelphia. I have little doubt that a fair and transparent confab, guided by rank-and-file progressives and not by lobbyists, would cast the money changers from the temple and embrace policies — like health care and college opportunity for all — that are favored by the majority of American voters.

I'm not optimistic that will happen, not in the least. So, TTFN, Democratic Party…ta-ta for now. Don't worry, thanks to Pennsylvania's closed-primary rule, I have little doubt that I'll be back again in April 2020…to vote for an honest progressive alternative to President Clinton.
Good riddance, you fucking crybaby. Your preferred candidate couldn't get enough votes to win the Democratic primary, boo-fucking-hoo. Been there, done that, got the stupid orange hat.
And BTW, that bit about the Democratic Party being "way too corrupt to be a real agent of progressive change"? President Obama is the current head of the Democratic Party, and comparing his progressive accomplishments to Senator Sanders' is like comparing the mass of the fucking sun to a lentil.
So yeah, nope. You join the snow-white unicorns in the Indy Corral over yonder — we grubby, corrupt Democrats will sack up and take on the Orcs. You're welcome.
God, I can't wait until this primary is over. Bunch seems like a good guy and will no doubt go back to being not-stupid soon. But it's disturbing to see these silly-ass GBCW posts from otherwise sensible people, in the same way it's disconcerting to learn that someone you previously considered smart and perceptive admired Ayn Rand past puberty.
[H/T: relentless performance art troll
srv
]