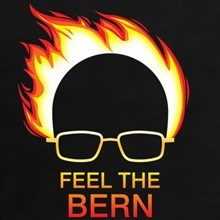 The Calvinball revolution:
The Democratic party and its Chicago convention were torn apart in 1968 over a fundamental cleavage over the Vietnam War. The Sanders camp is going to blow up the convention to push debate schedule reform? That's amazing. Reform of the primary process is a much more substantive matter. But remember, as I've argued before, the parts of the process most in need of reform (Caucuses and post-election day shenanigans) are the ones helping Sanders the most! Now his whole campaign is based on getting the superdelegates – which for most of the campaign he has said constitute the core anti-democratic aspect of the process – to hand him the nomination. Consistency is an overrated commodity in much of life, especially in politics. But you can't make the logic of your arguments so structurally unsound that they collapse under the weight of their own ridiculousness.

***

From what I can tell, the current Sanders campaign is riven between people who are increasingly upset or bewildered by what we might call the resurgent "burn it down" turn of Sanders outlook and others who are fully immersed in the feedback loop of grievance and paranoia that sees all the political events of the last year as a series of large and small scale conspiracies to deny the rectitude and destiny of Bernie Sanders. I've seen many, many campaigns. People put everything into it and losing is brutal and punishing. Folks on the losing side frequently go a little nuts, sometimes a lot nuts. The 2008 denouement really was pretty crazy. But it's not clear that this time we have any countervailing force – adulthood, institutional buy-in, future careers, over-riding pragmatism to rein things in.
Only nihilists, college students who are living off their parents, and white employed men with nothing to fear from the Trump administration have the luxury of thinking like this. In other words, the Bernie coalition. Since Jane is on his payroll and also got a nice 200k golden parachute for destroying Burlington College, Sanders will be fine, too.
In case I'm not clear, fuck these guys.