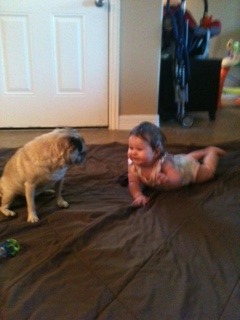 From commentor Josie:
Here are two pictures of my son's aging pug, whose life has been recently upended, and my namesake Josie, who did the upending.

I kept Emma (the pug) for a year on two separate occasions while my son was in law school, so I am somewhat attached to her. I am over the moon, however, about my first grand child.

Emma, as you can see, is taking her new duties very seriously.
It's a great responsibility for a not-so-big dog, after all!
***********
Apart from this evening's meet-up in NYC, what's on the agenda as we wrap up a week few people will be sorry to see the back of?