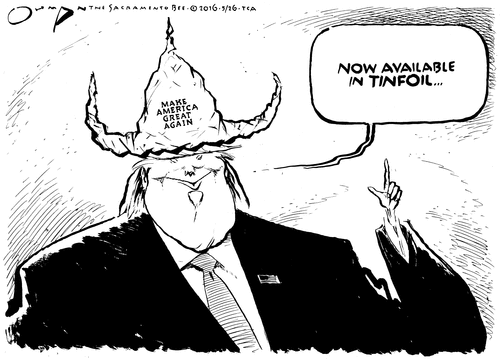 Nominated for poltical headline of the week: Gawker, "Clown Recognize Clown"
Nominated for best Trump photo pick of the week: TPM, "Trump Camp Accidentally Emails Politico Its Plan To Hit Clinton On Whitewater"
Nominated for Snark of the Week (even in a week full of eminent contenders): Eric Levitz at NYMag:
We all know Martin Shkreli has his flaws. The former hedge-fund manager turned pharmaceutical CEO — turned exemplar of capitalism's worst pathologies — tried to make malaria treatment into a luxury good. And he bought that Wu-Tang album. And his last name is easy to misspell.

But this is America, a land of second chances. And on Thursday night, Shkreli took a first step on the path to redemption. Recognizing that his own unpopularity is the most powerful weapon he possesses, everyone's least favorite hedge-fund hipster delivered a devastating blow to Donald Trump's candidacy…
Nominated for most predictable news story of the week: NYTimes, "Donald Trump's Campaign Stumbles as It Tries to Go Big" —
BISMARCK, N.D. — A constant stream of changes and scuffles are unsettling Donald J. Trump's campaign team, including the abrupt dismissal this week of his national political director.

A sense of paranoia is growing among his campaign staff members, including some who have told associates they believe that their Trump Tower offices in New York may be bugged, according to three people briefed on the conversations.

And there is confusion among his donors, who want to give money to a "super PAC" supporting Mr. Trump, but have received conflicting signals from top aides about which one to support.

On Thursday, Mr. Trump secured the Republican Party's nomination for president, a remarkable achievement for a political newcomer. But inside his campaign, the limits of his managerial style — reliant on his gut and built around his unpredictable personality — are vividly on display, according to interviews with nearly a dozen Republicans inside and outside of the operation…

… [O]fficials in battleground states have complained for weeks that the Republican committee has not delivered the promised resources for field organizations. Mr. Trump has also been dismissive of data analytics, suggesting in interviews that his showmanship and rallies will continue to be effective. He has suggested that he will compete in new states, despite the scant resources he has devoted to the traditional Republican map so far. And he has been adamant to aides that he intends to try to compete in New York, which no Republican has captured since Ronald Reagan, and has held discussions about hiring an additional pollster for the state.

Despite his and his aides' talk of unification, Mr. Trump himself has so far proved unable and unwilling to rally the entire party around his candidacy. On Tuesday, he deliberately attacked Gov. Susana Martinez of New Mexico — a Hispanic rising star and head of the Republican Governors Association — in her home state, saying she was "not doing the job." And he hit Mitt Romney, the 2012 Republican nominee, calling him a "choker" and mocking his gait, saying he walked "like a penguin."…
***********
Apart from cheap laffs & tasty schadenfreude, what's on the agenda for the day/weekend?