We've been on a mini-vacation this week, which included hiking and birdwatching for a few days in Southwest FL. The region is one of the best in North America for observing birds, but summer (which is already is here, despite what the calendar suggests) is the worst time for it since a) migratory birds have already decamped, and b) it's hot AF.
Still, it has been a wildly successful trip in terms of birds spotted. Yesterday, we saw a Mangrove Cuckoo, which even highly skilled birdwatchers (not us!) find challenging to spot. It was pure luck — we heard it and had the good fortune to see it fly across the road right in front of us.
We also saw innumerable Magnificent Frigatebirds, Ospreys, Bald Eagles, Egrets, Herons, Double-Crested Cormorants and Anhingas. We saw plenty of Ibises as well, but since they routinely de-bug our lawn, an Ibis spotting is ho-hum to us — we're spoiled!
I've resisted investing in a camera so far, but this week, I've regretted that. Here's a drawing of a Great Egret that landed on the dock railing at our rental: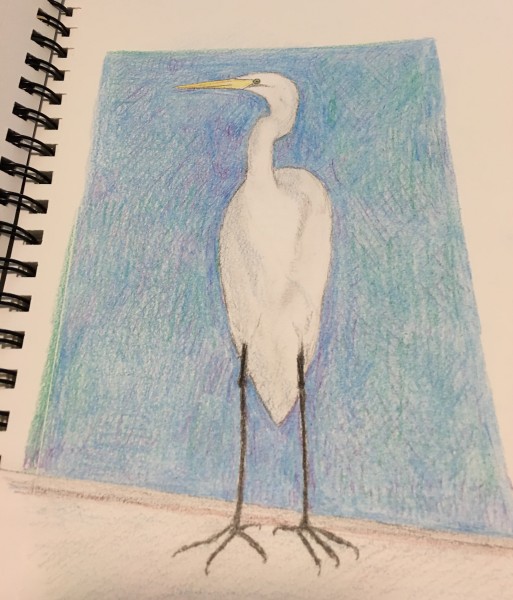 And here's a lovely Green Heron who was almost close enough for a decent iPhone photo: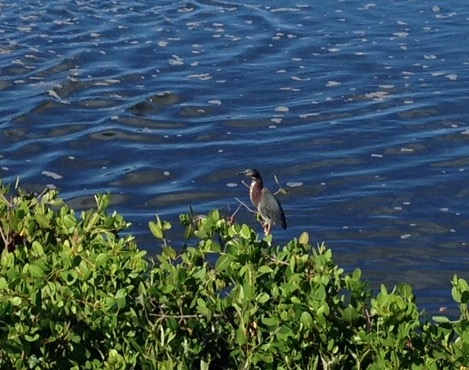 We saw a gorgeous Reddish Egret too, but he was too far away to photograph without a telephoto lens. The bonus sighting of the day was when we were looking up and then happened to look down long enough to see a little otter scamper across the trail.
Overall, a worthwhile trip despite the wretched heat. Open thread!