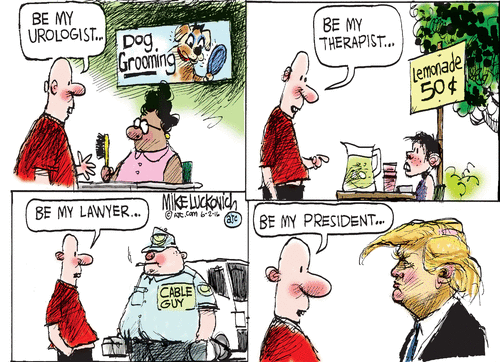 President Kennedy had a Harvard-trained intellectual; wanna-be-President Trump gets this guy…
Dick Morris named chief political correspondent for National Enquirer & 2016 continues its descent into self-parodyhttps://t.co/sbA7Pefpsx

— David Freedlander (@freedlander) June 3, 2016
Not a (deliberate) joke. Politico:
… Morris will have a column in the Enquirer's print edition each week, and will also write for its website and do video commentary.

A former Clinton campaign staffer, Morris has become a cable news regular by virtue of his reliably critical takes on his former employers.

"The National Enquirer is one of the few journalistic outlets that has the courage to publish the truth," said Morris in a statement. "As this critical election approaches, I am thrilled to have a perch from which to tell the unvarnished truth, particularly about Hillary Clinton — facts other publications just don't print because it doesn't fit."…
***********
Apart from bidding farewell to another handful of IQ points, what's on the agenda for the start of the weekend?