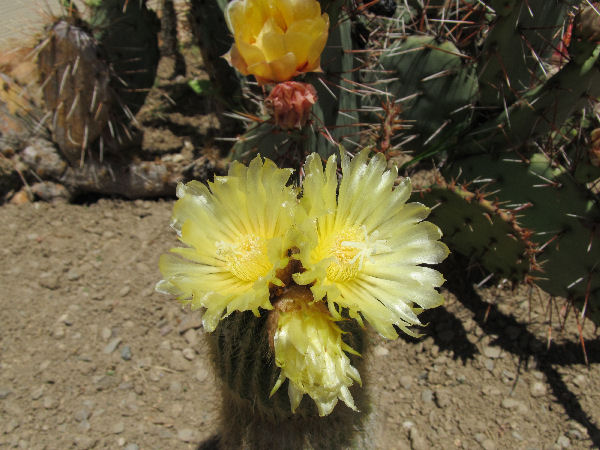 From loyal garden commentor Scout211, mid-May:
This group of photos shows an eclectic group of plants ripening right now in sunny, warm rural Northern California.

Photo #1 [at the top] is one of our tiniest cactus in our cactus garden blooming with beautiful yellow flowers. This is the first year that we have had blooms on this little guy.

Photo #2 is one of our many milkweed plants that we have planted all over our property. It is blooming season for our milkweeds. We actually saw two Monarchs last year (the first two we have ever seen here).

Photo #3 is of our blueberry bushes, currently starting to ripen….
***********
More photos below the fold.
Here north of Boston, I bought too many tomato plants this year. I say this every year, but I may have achieved an inadvertent personal best (felt compelled to order from five different companies to get all the 'must have' varieties, and kinda lost track of how the numbers were adding up). The last two dozen (gorgeous) plants just arrived from California, and there's previous transplants, half-empty rootpouches & bags of potting mix everywhere. The Spousal Unit finally got around to buying a tree pruner so the strip of asphalt that serves as my tomato garden is hip-deep in oak & lilac prunings. And my allergies have been knocking me out for the last couple months, so the rest of the front yard has gone to wrack & seed (although the roses & perennials are faithfully blooming through the weeds & winterkill…
What's going on in your garden(s) this week?
Continue to the rest of Scout211's pics…
Photo #4 is a close-up of one of my tomato plants. Green tomatoes are starting to appear.

Photo #5 is my strawberry bed. I am currently harvesting about 6 strawberries a week, but these are ever bearing so they should be producing more berries soon and they have a long growing season. Last year I was harvesting until the end of November.

Photo #6 is my apricot tree, full of ripe apricots. The Mister plans to try to make apricot jam. We'll see if he can pull that one off.