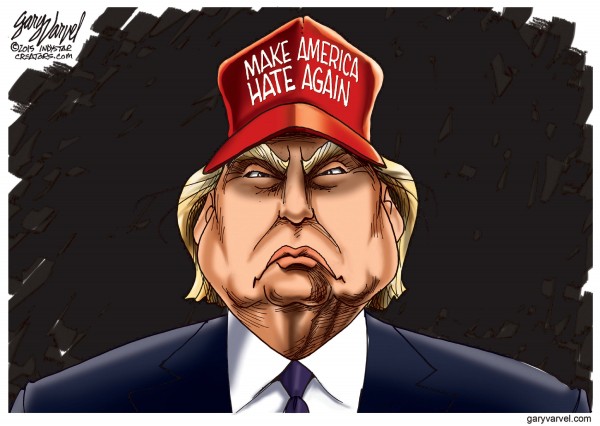 Regardless if Trump loses or not, his candidacy and his tactics are going to have long-standing repercussions for society. Today, der TrumpenFührer decided that not only are Americans of hispanic descent not fit for the court, but Americans of the Islamic faith:
Presumptive GOP nominee Donald Trump said that it was possible that a Muslim judge would be biased against him when asked in an interview aired Sunday for his views after proposing a ban an all Muslims.

Trump reiterated on CBS News' "Face the Nation" that he thought U.S. District Judge Gonzalo Curiel, who is presiding over the federal fraud case against Trump University, was biased toward him because he was "very strongly pro-Mexican."

CBS host John Dickerson asked Trump if he thought he wouldn't be able to be treated fairly by a Muslim judge.

"It's possible, yes. Yeah," Trump replied. "That would be possible, absolutely."

"He is a member of a club or society, very strongly pro-Mexican, which is all fine. but I say he's got bias. I want to build a wall," Trump said, referring to the wall he wants to build between the U.S. and Mexico.
I wish there was an enterprising reporter or journalist who would just confront Trump with a checklist of ethnic backgrounds and religions and ask him to put a check next to which ones are real Americans who are capable of serving on the judiciary fairly.
At any rate, by validating his candidacy, Paul Ryan and others are most certainly partly to blame for this kind of thing: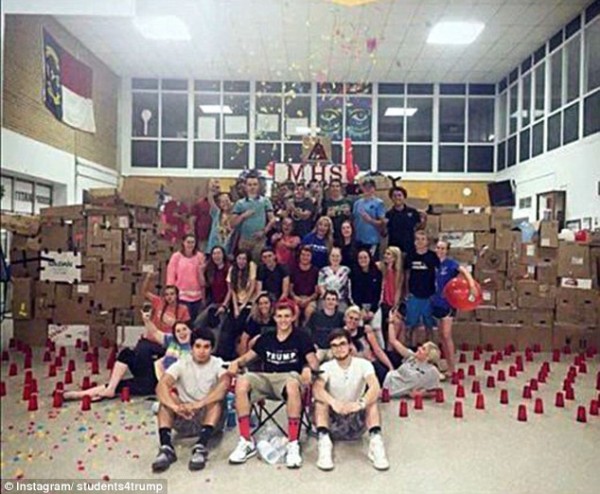 A group of students at a western North Carolina high school built a wall made of boxes and blocked access to a common area, and their Latino classmates are upset.

The students were allowed into McDowell High School, about 100 miles northwest of Charlotte, on Wednesday to perform a prank as a teacher supervised them.

A photo of the wall with about 30 students standing in front of it was shared on Instagram and captioned, 'We built the wall first.'

Principal Edwin Spivey says one of the kids wanted to put a Donald Trump logo on it and was told he couldn't do that.

The wall was taken down before classes began on Thursday.

Donald Trump, the presumptive Republican presidential nominee, has promised to build a wall along the US-Mexico border if he gets elected.

He said in a June 2015 speech announcing his candidacy: 'I would build a great wall, and nobody builds walls better than me, believe me, and I'll build them very inexpensively, I will build a great, great wall on our southern border. And I will have Mexico pay for that wall.'

At the time, he also said: 'When Mexico sends its people, they're not sending their best.

'They're not sending you. They're not sending you.

'They're sending people that have lots of problems, and they're bringing those problems with us.

'They're bringing drugs. They're bringing crime. They're rapists. And some, I assume, are good people.'
Why is that teacher still employed? Oh, yeah. North Carolina.
I've long said that I prefer to have my racists out in the open- I like letting the Klan march in Skokie because I actually do like people to speak their minds and then be held accountable for them. I much prefer being able to keep an eye on those hooded peckernecks than have them hidden underground making bombs and planning lynchings. At the same time, I don't think political correctness is some horrible scourge on humanity. Yes, there are a bunch of whiny shits on college campuses, but hopefully they will grow out of it, and when they don't, it's because they have shitty faculty who didn't teach them. But most of all, what political correctness means is a basic sense of fucking decency.
The Trump campaign has burnt to the ground any sense of decency, and is actively whipping up hate. This is scary and is going to be a mess for a long time coming, particularly since these kids are learning it from their parents and are going to get even angrier and more radical unless their beliefs change, because they are soon going to be the minority in America. What's happening in schools like this in North Carolina is we are breeding the next group of racists who are going to make life hell for all of us long after I am dead.