We went hiking yesterday at an inland nature preserve near Brooksville, Florida. It's called Chinsegut, and we've been there before. It's a lovely place with easy trails through sandhill and hardwood hammock habitats: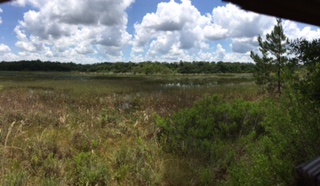 It's usually an easy hike, but yesterday, it was hotter than a red-headed roofer. We got a late start, so we were traipsing through the woods during the suffocating heat. The birds had more sense than we did — they mostly stayed hidden in the woods. But we did see a couple of wild turkeys on the way to the preserve: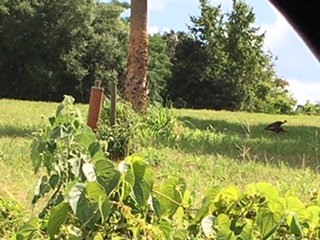 We also saw the gopher tortoise pictured below on the trail. It was greedily devouring a plant when we first noticed it. I interrupted its meal long enough to take this photo: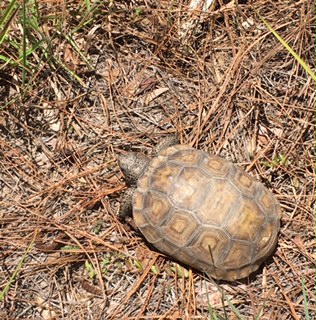 Gopher tortoises dig burrows all over the place, so you have to watch your step around them. They are otherwise harmless, unlike this snapping turtle* we saw, which gave us the most evil look, as if we'd trampled its eggs (we hadn't). They can be nasty customers, so we kept our distance: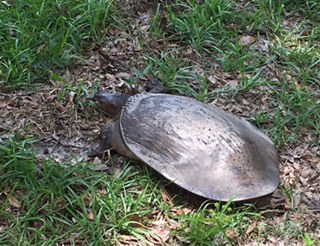 After a relatively short but sweaty hike, we figured we deserved a treat, so when we got home, I made this peach pie, pictured below when it was still hot and bubbly, fresh from the oven: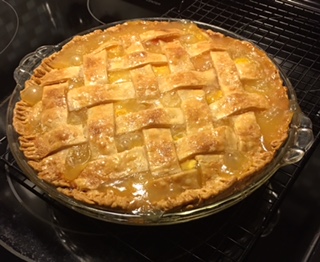 I need to work on my crust-crimping game, but the pie is pretty awesome, if I do say so myself. The trick is to mix the sliced peaches and half the sugar in a bowl and let it set for a bit. Then put a colander on a saucepan, dump the peaches into the colander to drain and return them to the bowl.
Then you boil the sugary peach juice in the saucepan until it reduces down to a syrup and add it back to the peaches. That way, your pie won't be too runny, which is always a danger with peach pies.
Anyhoo, that's what we did with our Saturday. Today is the last day of our vacation, so we'll have to make the most of it. We're still deciding how — baseball, beer and BBQ are under consideration. Got any plans today?
Open thread!
* A couple of commenters pointed out that this is probably a Florida softshell turtle. I think they're right.