Try as I might, I cannot for the life of me figure out this from Gauleiter Drumpf:
I am getting bad marks from certain pundits because I have a small campaign staff. But small is good, flexible, save money and number one!
"Save money and number one!"  So his number lines begin at two?  He and his staff promise to pee less?  He's running for a job as the Count's assistant?
I read that tweet in light of this analysis of Trump's purported advantage over Clinton, made by a once and (at least so he hopes) future Republican candidate-whisperer:
"She is fighting a conventional war and he is fighting an asymmetrical war, and I don't think that bodes well for her," said Terry Sullivan, a Republican strategist. Mr. Sullivan has a unique perspective on the question, as the former manager of Senator Marco Rubio's vanquished presidential campaign.
Trump's secret weapon according to Sullivan:  feed the beast.  Constantly.
The primary lesson: "The solution is always more content, not less," Mr. Sullivan said.
Partly, this is just grift.  Here's how the reporter, James Rutenberg acquired that earth-shattering insight:
Mr. Sullivan; the former Rubio communications adviser Alex Conant; and a lawyer for Mr. Rubio, Will Holley, had reached out to me to discuss their new consulting firm, Firehouse Strategies. It's based on the premise that Mr. Trump has rewritten the rules of modern communications strategy, and candidates and corporations need to take heed.
But what strikes me in this Firehoser's argument is his apparent ignorance of everything that's happened in media beyond politics over the last decade.  "Always more content" turns all content into noise soon enough.
Trump may have a bit of a first mover advantage in his dominance of the sclerotic political mediascape, but I think (a) that's wearing thin, and one of the shocks of last week for the Trump camp was the degree to which their former lapdogs in the media have turned on them.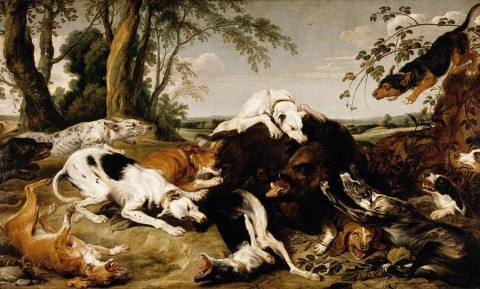 And more important, (b):  as a number of people have pointed out, Trump's got a long haul problem.  When the brand is escalation, at some point you're promising to build a wall to bar the Red Lectroids from Planet Ten — paid for by the takings from Vogon poetry readings.
Which is to say that yes, there's much to be done to stomp his campaign into utter oblivion.  But if texts like the Drumpf-tweet up top represent the current state of his content stream, I'm OK with that.
Image:  Frans Snyders, Hounds Bringing Down A Boar (couldn't resist), before 1650.