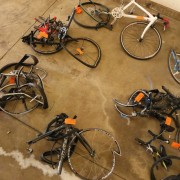 You move from the big city to a smallish town and think everything's going to be cute and fun. But this has been a tough year for Kalamazoo. A few months back, we had the Uber guy who murdered six and seriously wounded two, including a 14-year-old girl. And just last night a pickup truck driver plowed into a group of bicyclists, killing five and seriously wounding four more. I know the road this happened on very well – it's near a state park. Mostly straight and flat, with excellent visibility and just a few hills; and the crash happened in broad daylight. The police received several calls about erratic driving in the half hour before the crash, and the driver (whose name has not yet been released) is widely presumed to have been drunk and possibly distracted.
Groups around town are already making plans for five ghost bikes.
This might be a good time to mention the national campaign to replace the terminology of "car accident" with "car crash" or "car collision," the idea being that the vast number of so-called accidents are preventable and the language of "accident" absolves the responsible party. Makes sense to me; what do you think?
Edit: I'll also take this opportunity to plug Not So Fast: Parenting Your Teen Through the Dangers of Driving, a book by a father who lost his son in a single car crash. It's a good book, full of useful information.