First, via valued commenter Brachiator, here's a photo and link to an article from Smithsonian about women leaving "I Voted" stickers on Susan B. Anthony's gravestone: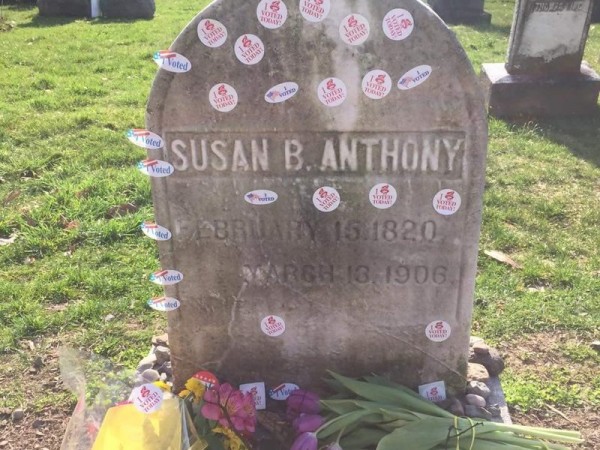 Next, via valued commenter The Thin Black Duke, an excerpt from a pundit round-up at dKos that may at least partially explain the lack of visible excitement around Hillary Clinton's candidacy while she nevertheless notched a double-digit win in California and won the Democratic Party primary:
I personally believe there's a correlation between her [Clinton's] largely female volunteer base (as of now), her unexpected voter turnout, and the fear so many women have of expressing themselves online, or on the street, or in the board room.

A lot of people on social media have wondered where all of Hillary's votes came from, because there was no signage, no outpouring of love on Facebook. It shouldn't surprise us that when we fail to listen to women's voices well in the public sphere, we mis-calculate what women are actually thinking and doing in private. We didn't know where Hillary's votes were coming from because they didn't feel it was safe for them to tell us in the first place.
Now, not all women like Hillary Clinton, of course, and some for perfectly good reasons. Then there are folks of both sexes who believe Clinton is a warmongering Wall Street strumpet. Others dread the prospect of a replay of Clintonian drama, as if a Hillary Clinton administration would be like being forced to re-watch Joan Collins vs. Linda Evans spats on "Dynasty" for four to eight years.
And others — including women — see the value in removing the two-and-a-quarter-plus centuries old "NO GIRLS ALLOWED" sign on the U.S. presidency but don't think it's that big a deal — it'll happen eventually, right?
Or they just can't get excited about this particular woman, who has been on our TVs since "Achy Breaky Heart" was a radio hit and doing the Macarena was a thing. I get all that, I really do.
But it's a mistake to assume millions of us don't have a special joy in our hearts and enthusiasm in our souls just because we aren't sporting lawn signs and bumper stickers. Some of us just don't want our windshields bashed in.
The other day my husband and I were out in the country looking at property, and we went down a steep dirt road (yes, we have hills in Florida in a few places, albeit smallish ones) to find an address. A couple of pickups were parked at a neighboring house, and for a second, I was surprised to see a Hillary sticker on one, but upon closer inspection, I found that it said "FOR PRISON" instead of "FOR PRESIDENT." Another sticker said, "Life's a Bitch. Don't Vote for One." [Zillow note: neighbors are assholes!]
Expressing an opinion — particularly a political one — while visibly female is not without risks. In my eight year or so blogging career, I've been doxxed, called foul names, shamed as a bad mother, had it suggested to me that I'm a lazy bitch who is a parasite on my husband, etc.
I'm not whining about it; I've raised a teenager, so I don't scare easily, and if my self esteem depended on retaining the good opinion of every random asshole I encounter online, I'd find another hobby.
But my point is, this shit is real. And so is the excitement many of us feel about electing the first woman president, even if you don't see it all over our Facebook feeds. I have a feeling that on November 9th, Susan B. Anthony's grave will be covered in stickers.