Valued commenter Immanentize shared a couple of tomato pie recipes with me the other day in response to my recent Attack of the Killer Tomatoes thread. Here's the pie: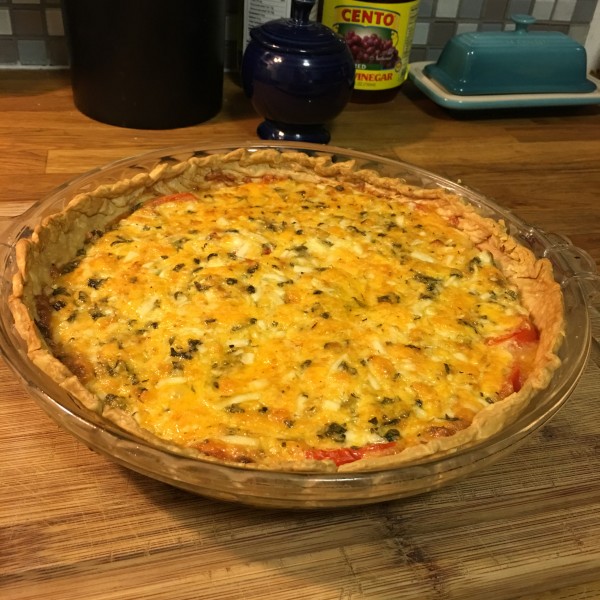 I trust it will taste as good as it looks and smells.
Speaking of trolls, Combover Caligula was in Tampa today (my closest media market). He said something that made my blood run cold even on this very hot day:
"I'll be here so much, I'll be in Florida, I'll be with you so much over the next five months that you're going to say, 'Please keep him the hell out of Florida. He's driving us crazy.'"
That clown car done left the big top parking lot a long time ago, Hair Furor.
But if there's any justice, things should get more heated for Deadbeat Donald since a USA Today piece exposed him as a serial stiffer of working folks. Here's a NY Mag summary:
USA Today has posted an explosive investigative story about what appears to be a deep aversion presumptive GOP nominee Donald Trump has to paying his bills. The short version: USA Today claims that, based on what looks like some rather impressive reporting, Trump has for decades looked for just about any excuse he could find to stiff everyone from plumbers to — can't make this up — lawyers who represented him in non-payment lawsuits.

The longer version is something of a bloodbath for Trump: "At least 60 lawsuits, along with hundreds of liens, judgments, and other government filings reviewed by the USA TODAY NETWORK, document people who have accused Trump and his businesses of failing to pay them for their work," writes USA Today's Steve Reilly. "Among them: a dishwasher in Florida. A glass company in New Jersey. A carpet company. A plumber. Painters. Forty-eight waiters. Dozens of bartenders and other hourly workers at his resorts and clubs, coast to coast. Real estate brokers who sold his properties. And, ironically, several law firms that once represented him in these suits and others."

The striking thing about Reilly's article is that there's no standard script for why a given person or company didn't get paid in full by Trump — he seemed to withhold payment rather capriciously. While Trump would often claim shoddy work as his reason for not ponying up, Reilly presents pretty overwhelming evidence that in many, if not most, of the cases, this was not a credible claim.
This tendency to screw people seems in line with Fuckface von Clownstick's general philosophy of grift, including the Scam U thing. I'm guessing a not-insignificant percentage of the tradespeople and service providers The Cheato fucked over outside of the Scam U context might be willing to tell their tale of woe in an ad.