If I lived in Maine instead of Michigan I'd probably be raving about kelp as the food of the future:
The virtues of macro-algae are many, in Seaver's eyes: They require no fertilizer, no pesticides, no fresh water, no arable land. Their nutritional profile is admirable, he says, providing healthy doses of iodine as well as potassium, calcium and other micro-nutrients, protein, soluble fiber, and Omega-3 fatty acids.

And seaweed's benefits aren't just for humans. It's quick growth means quick carbon dioxide uptake, which can reduce ocean acidification. Seaweed can filter excess nitrogen and phosphorous from the water, too. A National Oceanic and Atmospheric Administration-funded project in Washington State's Puget Sound is aiming to prove that farmed seaweed can create a "protective halo" around stressed sea habitats.

It's not just a sustainable crop: Seaver says it's restorative.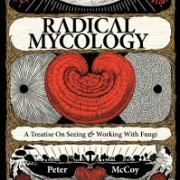 But I do live in Michigan, so I'd like to draw your attention to Radical Mycology, which is one of my new favorite things. It's an honest-to-gosh tome with nearly 650 pages of tiny print on all things mycological, and it really seems to me to be of the same ilk as The Whole Earth Catalog, a publication that helped birth and define an era.
Anyway, the author just announced a big book tour, so he's probably coming to a town near you! (But not near me, alas–as previously discussed, the mushroom gods hate me.) I would check it out.
And what's up for your Saturday? The Mr. has events associated with Kalamazoo College graduation this weekend, so I will be going to the Farmers Market solo this morning. It's good to do that, once in a while, because he rushes, or I'm too slow, or something.
Later, I'll be tabling for Vegan Kalamazoo at Kalamazoo PRIDE. I have really been looking forward to this! I love tabling–okay, not the setup and takedown, just the stuff in the middle–and I love PRIDE.
If you're looking for something to watch this weekend, I recommend Occupied, or the brilliant Sense8 (by the brilliant Wachowskis and the brilliant J. Michael Straczynski) if you haven't seen it.