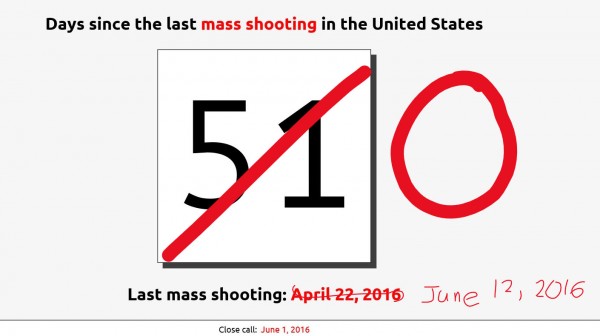 Crappy news to wake up to: There has been a "mass casualty" shooting at an LGBT nightclub in downtown Orlando, Florida. From the CNN live feed, we know so far that there are multiple casualties and that the shooter is dead. Early witness reports mentioned two shooters, but the cops' statement said the "shooter" — singular — is dead, so it sounds like one person committed the crime.
Witness video showed what appeared to be a gunfight in the street between cops and a suspect. It also showed patrons carrying wounded people away from the crime scene and a gigantic response by emergency personnel.
The shooting happened around 2 AM ET. There's supposed to be a press briefing from the cops at 7 AM. Just another morning in America.
UPDATE: Cops said there are "multiple people dead" inside the club and that 42 people were transported to local hospitals. From the OPD chief's report, it sounds like a cop onsite engaged the shooter after he opened fire outside the club, at which point the shooter ran into the club and took hostages.
A SWAT team then stormed the club and killed the suspect. The Orange County sheriff says they are investigating it as "an act of terrorism," but they aren't classifying it as a "domestic" or "international" incident.
UPDATE 2: OPD chief says around 20 dead inside the nightclub. Jesus.
UPDATE 3: Cops say they have reason to believe suspect had "leanings" toward radical Islamic terrorism but no definitive proof at this point.
UPDATE 4: Cops said shooter had "assault rifle," handgun and a "suspicious device."