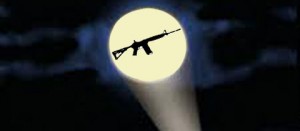 Addressing the nation yet again on the occasion of yet another massacre perpetrated by yet another lunatic with easy access to military-grade weaponry, President Obama sounded terse and resigned on Sunday:
Today marks the most deadly shooting in American history. The shooter was apparently armed with a handgun and a powerful assault rifle. This massacre is therefore a further reminder of how easy it is for someone to get their hands on a weapon that lets them shoot people in a school, or in a house of worship, or a movie theater, or in a nightclub. And we have to decide if that's the kind of country we want to be. And to actively do nothing is a decision as well.
It's easy to throw up your hands in despair. The NRA and its allies seem all-powerful, able to prevent even commonsense gun safety measures that enjoy overwhelming bipartisan support. Gun interests have wholly co-opted one of our two political parties and compromised a portion of the other. They've harnessed vast resources to squelch the expansion of knowledge and dissemination of public health information related to gun violence and hijack the debate at every level with a volunteer army of brainwashed gun-humpers.
But despair is the wrong response. We need to get angry and determined and stay angry and determined. That's the only way to win an uphill battle. Jamelle Bouie at Slate outlines the scale of the challenge:
The entire landscape of modern gun politics—from the Republican Party's commitment to expansive gun rights to the real reticence with which Democrats have largely approached the issue—is a testament to the incredible success of the collective gun rights movement, from individual voters and activists to gun manufacturers and institutional forces like the NRA. President Obama could barnstorm the country and denounce every Republican who opposes background checks, and it wouldn't change the extent to which the organized gun-rights movement has its fingers on the vital pressure points of American politics.

There is no countervailing equivalent, at least not at the moment. For as much as Americans support stricter gun laws, we lack the kind of dedicated, organized effort that could translate that mood into policy. Sure, there have been moves by Michael Bloomberg to push gun control into the political mainstream, the first real attempt to create a structural counterpart to the gun lobby. But even that is anemic compared with what the NRA and its allies have at their disposal.

So if you support efforts at gun control, don't look to the president. The answer is to replicate the efforts of the gun-rights movement, from fully aligning the Democratic Party on the side of gun control, to leveraging grassroots action, to pressuring lawmakers, to punishing politicians—left and right—who don't show the same commitment to restricting gun access. The president plays a part here—particularly in making gun control a Democratic Party priority again—but it's ultimately a modest one, an advocate's role.
The whole thing is worth a read, despite its click-baity headline. President Obama is already on board, as is future President Hillary Clinton, who said this in response to the Orlando massacre:
I believe weapons of war have no place on our streets and we may have our disagreements about gun safety regulations, but we should all be able to agree on a few essential things.

If the FBI is watching you for a suspected terrorist link, you shouldn't be able to just go buy a gun with no questions asked. And you shouldn't be able to exploit loopholes and evade criminal background checks by buying online or at a gun show. And yes, if you're too dangerous to get on a plane, you are too dangerous to buy a gun in America.

Now, I know some will say that assault weapons and background checks are totally separate issues having nothing to do with terrorism. Well, in Orlando and San Bernardino terrorists used assault weapons, the AR-15. And they used it to kill Americans. That was the same assault weapon used to kill those little children in Sandy Hook.
Future Madam President is on board, and that's great and essential, but that's not enough. Those of us who are determined to fight this madness need to stiffen the spines of any Blue Dog Dems within our purview, counter NRA propaganda with facts wherever it crops up, and above all, make commonsense gun control a priority voting issue.
Action can take many forms. Over the past couple of decades, I've made it a priority to communicate with public officials at every level on this issue, join and donate to gun control groups, research candidates' views on gun control and make it clear that I won't support any politician with "NRA" stamped on his or her ass, write letters to the editor and even wade into comments sections of local news organizations to do battle with gun-fondling morons.
Does it seem futile? Yep. And I've given in to despair myself at various times, particularly in the wake of the inaction following the Sandy Hook atrocity. But then I tell myself that's exactly what blood-gargling ghouls like Wayne LaPierre want: a demoralized opposition that is driven to apathy by despair.
So it's up to us. If you support gun control, what are your ideas on how to push it forward?