Clinton demolishes Sanders in DC: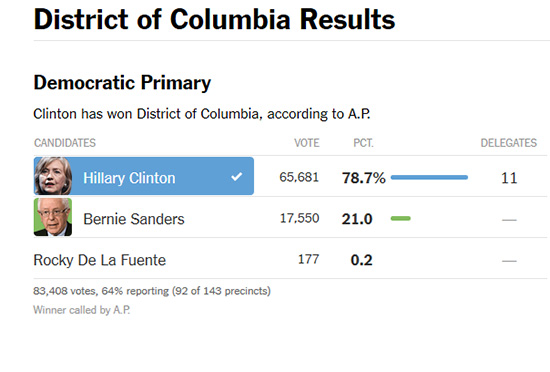 For those of you keeping track, that's 6% points below the Crazification factor.
He had an opportunity to bow out gracefully after a good and impressive run with some victories under his belt and some dignity, but a combination of shitty advisors who never ever told him the truth and were honest with him, his own delusional thinking, and rage against the machine kept him "in the race," although in spirit only, as we now see. Now no one will even listen to his speech tonight, if he gives one. I doubt the networks even cover it if he does with everything else going on.
Reports are he's going to meet with Clinton tomorrow, and, well, they'll prolly agree to pay down the debt he incurred wasting everyone's time over the past couple of months and work towards incorporating many of his good ideas into the platform and hopefully stop the bullshit rhetoric about blowing up Philly.
Sanders 2016 is an ex-parrot, but hopefully many of his ideas will continue on and become part of the Democratic platform and his supporters will join the party and help move us forward and past der Trumpenfuhrer.