Today was a good day. Rather relaxing, got some stuff done, the kids didn't break anything, the pets didn't destroy anything, my cleaning lady did made her monthly visit and cleaned all the stuff that is a pain in the ass for me that hurts my shoulder when I try to do it (drapes, ceiling fans) and did a solid clean, weeded the garden and I got all my laundry done, and then I made a nice big salad and chicken parm and pasta with a nice sauce, and now I'm watching the last couple of episodes of the Americans and having some mint chocolate chip ice cream.
Spent a solid hour or so primping and preening Lily, which is one of my favorite things to do. Cut her nails, trimmed the hairs between her toes, brushed her, brushed her little teefus, and then her favorite thing, put a little bag balm on her ears and massaged them and put some more on the dry patches she gets in her armpits. She's just such a good girl, and just sits there in my lap and let's me go about fixing her up. I know she loves it, too, and just looks at me like I am the most amazing thing on the planet this side of bacon. At any rate, I love doing it, because she is so happy and I know it makes her feel better.
Christion and Carlo both think I should clone her. I probably would if I had a spare 100k lying around- a new breed- the LILY. I'm not sure how I would sell the breed, because she literally does nothing. She's not super smart (she's not dumb, but she's just not poodle smart). She doesn't do tricks or hunt or anything, she's not much of a guard dog, and she has no real skill set other than just being super sweet, fitting well on a human lap, and serving as an appreciative vessel into which humans can pour love. That's enough for me, but I dunno how many other people would want that in a dog.
Oh, and for the election, my sister got Thurston a special dog toy. Behold, the Dognald: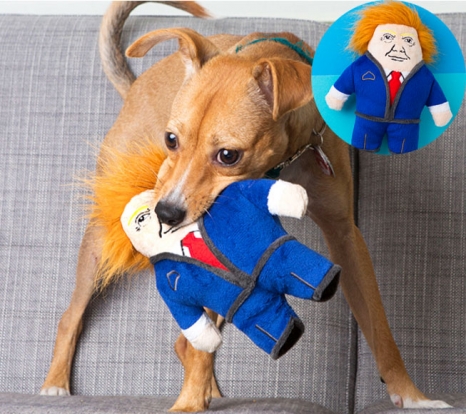 It's even got a farty squeaky toy, so expect some videos when I finally decide to let him play with it (he's still eating Mr. Squirrel and if he has more than one toy he just leaves the damned things in the yard).
I guess that's it.