We went birding this morning but got off to a late start, which is a recurring theme in our birdwatching chronicles. Whose fault is that, I wonder? Hmmm? Hmmmmmm? Anyway, here's where we set off with our field glasses; it's a park along the shores of Tampa Bay: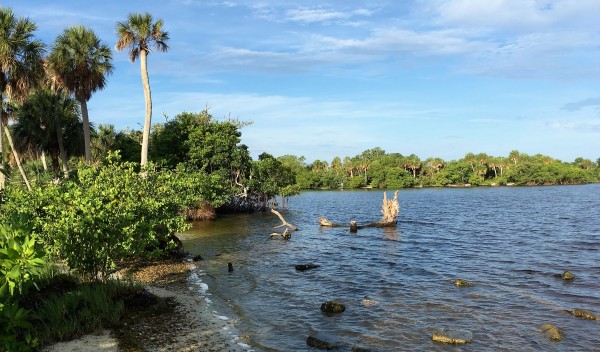 Looks nice, doesn't it? But in fact it is a zika-skeeto-infested hellhole! We're used to slathering ourselves in Deep Woods Off and sunscreen before even going out to check the mail, so of course we'd sprayed ourselves down thoroughly. But the mosquitoes were so thirsty for our blood that they dive-bombed our eyeballs and burrowed into our ear canals. Not pleasant.
We didn't see many birds due to the aforementioned late start and because the tide wasn't optimal for shorebirds. But we did see this antediluvian critter: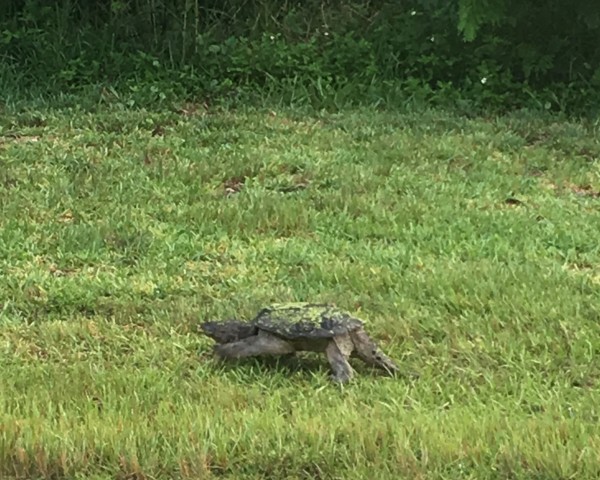 I believe it is a snapping turtle. It had just emerged from a weed-choked canal, hence the crap on its shell. We weren't sure if it was a snapper or an alligator turtle, which looks very similar only with more ridges on the shell. But we decided it was a snapper.
We also saw this lovely pelican flying around hunting for fish: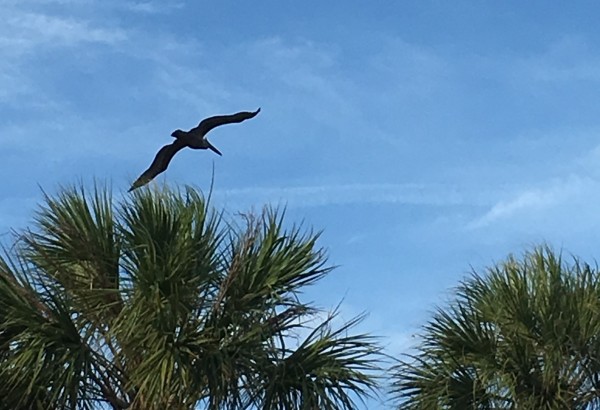 You can always count on pelicans around here. Even if every other bird is hidden away from the heat, the hardy pelican will still be in evidence. Ibises too, but they are as common as pigeons around here, so I didn't bother taking a picture of those goony birds.
We saw plenty of eagles and ospreys in their nests, but they nest so high up it's not worth getting a shot unless you have a camera with a telephoto lens. All I had was my iPhone and field glasses, which I used in combination to get a shot of St. Pete across the bay: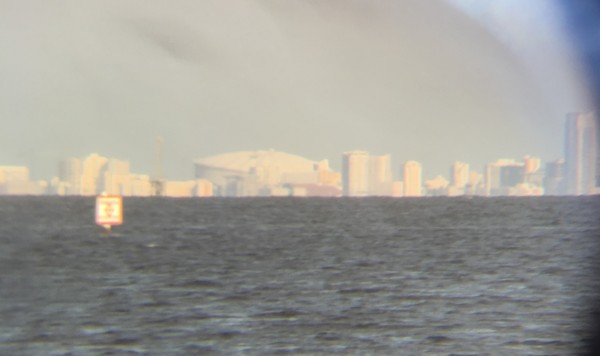 Yeah, no. That didn't work too well. Maybe someday I'll get an actual camera. But with that, we beat a hasty retreat, down approximately a pint of blood each thanks to the relentless mosquitoes.
Now I'm figuring out the order in which I will run a bunch of errands and generally procrastinating on cleaning the house. I've got a houseful of people coming over tomorrow to celebrate three things at once: Father's Day, our daughter's graduation from high school and the annual summer departure of the snowbird relatives.
I'm planning to make ropa vieja and yellow rice since it's the sort of thing that holds up well when people are showing up at unpredictable times, and it doesn't require use of the oven — it's too goddamned hot to use the oven!
I will also make a key lime pie since that is my hubby's favorite dessert and perhaps roasted shrimp cocktail, plus a big old salad. What are you up to today?