Last night, John Oliver also spent a good deal of time talking about the Brexit and UKIP:
If it was not abundantly clear, the white nationalist strain of UKIP should seem very familiar to you, as it is basically the British version of the Trumpanistas, right down to his opinion on the Brexit:
Donald Trump reiterated his support for the U.K. to leave the European Union days before Brits vote in the EU referendum on June 23.

"I would personally be more inclined to leave, for a lot of reasons like having a lot less bureaucracy," Trump told the Sunday Times. "But I am not a British citizen. This is just my opinion."
Because of course you do, Donald. You're a fucking idiot. There's a great piece on NBC right now about who exactly the Trump supporter is, and it is well worth your time (lots of graphs and fun stuff):
A year after Donald Trump launched his presidential bid, and against all expectations, the business mogul is the presumptive GOP nominee. Who supported him? How did he take over a Republican Party whose leaders almost uniformly opposed him? And will the GOP ever be the same? NBC News crunched polling and election data and conducted dozens of interviews with supporters, critics and party leaders of all stripes for a series of stories explaining the phenomenon that defined 2016. In chapter one, we look at Trump's voters: Where they live, what they want, and how their deep unease with a changing America fueled a political revolution.
Long story short, the Trump supporter is white, ethnocentric, afraid of immigration and immigrants, less educated (his highest support is among those without a HS diploma), worried about the future, and not earning what they used to and have not had any of the gains from the economy. This graph stuck out: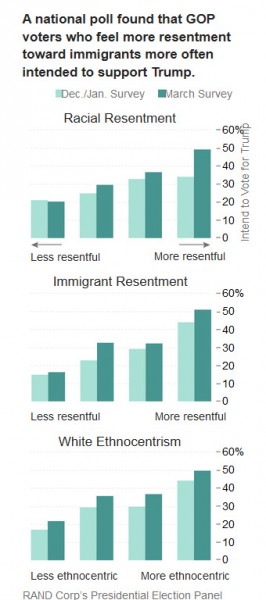 Basically, if we were in England, Trump would be a more vulgar Nigel Farage.