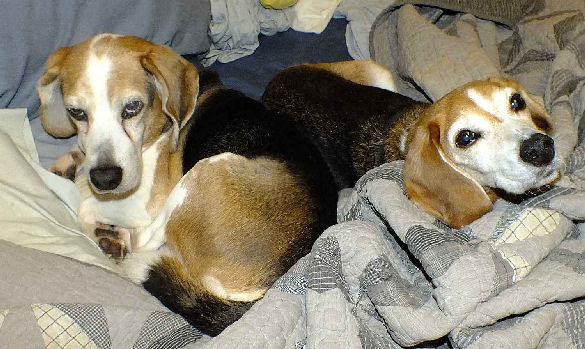 From commentor Tony S:
My wife, Celine, hates to read most dog books because they usually end in tragedy — or worse. All too often, the pups wind up passing, and we've had all too much of that. Our house came with a super-senior beagle when we bought it 16 years ago, and we've had at least 10 dogs pass since then.

We like our pack to max out at 4, but a couple of weeks ago we saw a listing for two elder beagles at the Vorhees Animal Shelter, which is about 140 miles south of us in New Jersey. Donald (now Woody — no Donalds in this house) and Buzz had been together all their lives in comfy home situation. But they had been turned over to the shelter because of some family issues.

Though the profile pictures were small, they struck us hard, and perfectly matched the profile of dogs we like to rescue. At 11 years old, they were seniors but still functional. Even in the profile pics, it was easy to tell they were anxious and depressed, but we knew that time and love would deal with that.

Anyway, after a two-and-a-half hour drive and a fair amount of projectile vomiting,we arrived at the Vorhees Animal Orphanage in Southern New Jersey. They had a number of runs, and I saw two lonely beagles waiting in one. I put our pups on our "Cerebrus" rig, and the new pups passed the (literal) sniff test with ease. Our oldest dogs, Jessica and Monty, have seen a lot of companions come and go. Monty only got upset when I had to step out of the run to take care of some business. He treats me with disdain at home, but gets pretty vocally mournful if I dare get more than five feet away on the road.

Woody proved to be a peak adorable beagle. He is tiny, and has a personality that is at once aggressive and adorable. Dental issues mean he has a tough time eating the home-made treats I make, so he scurries off to a corner and gums mightily, threatening all who might intrude with an immediate and terrible death.



Buzz doesn't quiet have the 1,000 bark stare a number of our other rescues have had, but he is still shocky and depressed. He is also a stealth cuddler. I've gone to sleep empty-armed numerous times and woken up with a beagle sleeping on my shoulder as he makes rumbly little sighs.

Buzz is a starer. He will gaze at you with that patent psychic beagle look, drilling into your soul with all the sadness of a dog who has been expelled from his home and is trying to figure out how he fits into the new one. Woody is a very, very different pup. The tiniest beagle we've ever seen, he is ferociously protective of his treats. He's also an intensive blanket tunneler. He's gone missing any number of times; we've hunted for him until we realized that that small lump on the bed was moving up and down with the rhythm of a sleeping dog.

As for the "buddy" aspect of Woody and Buzz, they seem to hardly notice each other. Then again, this morning I woke up to the sound of soft, sterophonic snoring. Buzz was lying next to me, silkily-furred head on the pillow. And in his paws was Woody, wheezing along in tandem.

The only thing that upsets us is how someone could let go of two such beautiful, loving, wonderful pups. As you might recall, the duo are (allegedly) 11 years old, and spent all their lives together. I would add a couple of years to that.

These dogs are just a marvelous example of why senior dogs are the best. They are (reasonably) relaxed and easygoing while at the same time full of caring and energy. The best news: Buzz has been cured of deafness! If you have a treat, and call his name from across the room, he comes running — actually, it's sort of a loping lumber. He is not speedy, but, given that we specialize in seniors, we're glad he can walk.

Interestingly, Woody hates the doggie door with a profound passion, and has set a new record for reluctance to learn how to use it, while Buzz figured out the door in one day. I got clue as to why the other day when I was sweeping. Woody fled the room as soon as the broom moved across the floor. Buzz hardly noticed it. Woody is just not comfortable with moving, flapping things.

Sometimes I look at our new dogs and tear up, thinking of all the senior dogs stuck in shelters until they perish, or being given quick and unfair executions. How could someone let go of two such appealing, adorable animals after a dozen years of good company? We were told a grandmother had to move into the dog's home, and that she tripped over the pups. I've done that more once for Buzz, who often likes to stay closer than is particularly safe. But there are always ways….