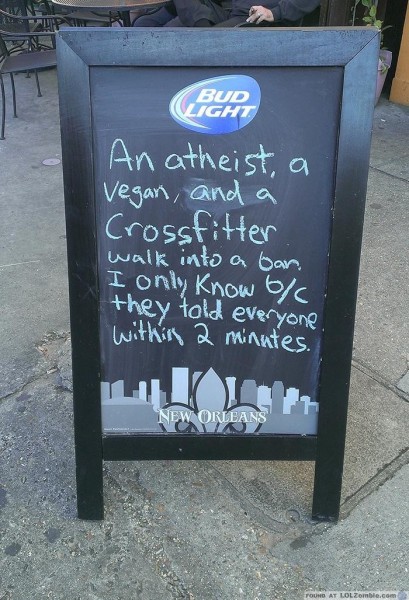 Many of you know how how I feel about religion- but since I have some time, I might as well post it again now. Long story short, I really have no use for it. I'm not a believer, I don't think it should guide our political discourse, and I hate the destructive impact it so often seems to have on so many people.
On the other hand, I'm also not the asshole who needs to run around and convince everyone else there is no God or to abuse people who believe- I'm kind of with Marc Maron on this. I may agree with Richard Dawkins a lot, but man is he an asshole.
At any rate, my mom was a Quaker and my dad's mom was Catholic but for some reason he was a Methodist, but when they moved here to Bethany, WV they both became Disciples of Christ. I went to church as a kid and was baptized before I had a say, but none of it really stuck. My only really profound memories of church and religion are giggling inappropriately. Disciples is actually a rather progressive church, LGBT inclusive, that was partially founded in Bethany.
Back to the point- even though I am not a believer or a member, I generally choose to give them money every time they have a bake sale, or pancake dinner, or what not, because they are good people, my friends and neighbors, and I trust them to make the most out of whatever I give them. I guess I think of it as a small way to help my community. Anything that makes that many people happy and gives them comfort is worth keeping, in my book, and they are not out actively doing harm like many churches and religious sects (see Tony Perkins and those human scum). This is the place that helps my friends when their loved ones dies, the place where people go to be married.
So when it comes to donating to help people struck by the floods, they were my first choice, and if you are so inclined, this would be a good place to donate. It's a local congregation that one of my friends recommends and they have a modest and attainable fundraising goal, so if you have a few bucks you want to chip in, these folks would make the most of what you donate.
Here's the link for the gofundme.