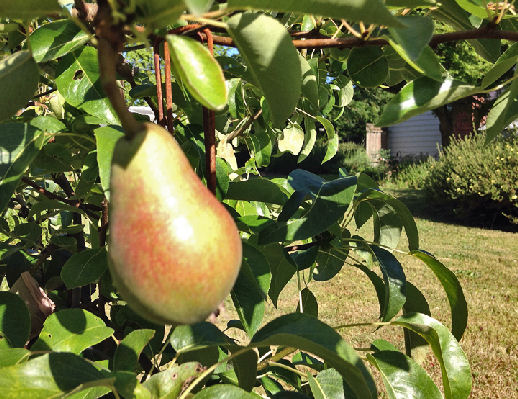 A small pear with Big Dreams
.
From faithful garden correspondent Marvel:
Summer's had a 'soft opening' here in the Willamette Valley. Not too hot, a cool drizzle here & there — it's made the heavily front-loaded tasks of the season pretty pleasant.

I've included here snapshots from the garden — there's plenty out there that's reached its prime (kale, artichokes, strawberries & peas, I'm talking about you) and much that's starting to put on heavy growth (cabbage, cauliflower, tomatoes, popcorn, beans among them). With any luck, the hardest-working part of the season's behind us.

Shasta Daisies — low maintenance, high entertainment value.

Borage — so fuzzy. These cucumber-scented blossoms keep the bees happy from Spring to Fall.

Artichokes, Year Two — yummy little Martians.

Summer Squash — the first zuke flower peeks its golden head out.

The last of this year's peas — they were champs!
To be continued…
What's going on in your garden(s) this week?