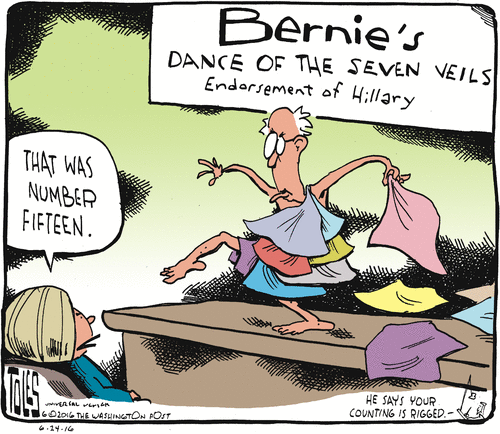 The Washington Post informs us that Sanders has "put his stamp" on the DNC platform draft…
… The draft policy rubric approved early Saturday is evidence of the sway Sanders holds after a bruising primary that technically has not ended. The language would move the Democratic Party to the left on issues ranging from wages to banking reform to climate change, and represents several concessions by presumptive nominee Hillary Clinton to her persistent primary rival.

Fourteen out of 15 members of a party drafting committee, including four chosen by Sanders, approved the draft document. Cornel West, an academic and activist named to the panel by Sanders, abstained. The draft document now goes to the larger platform committee for a vote next month.

Sanders plans to ask for further changes to the platform then, most likely prolonging the awkward status quo: He has lost but has not yet conceded defeat or endorsed Clinton. He said Friday he would endorse Clinton when he hears her say "the things that need to be said."…

"I don't want to do anything as he ends his term to undercut the president of the United States," [committe chair Rep. Elijah] Cummings said during the negotiation Friday.

West replied that the responsibilities of citizenship should transcend loyalty to the president…

Reacting to the committee's progress Friday, before the draft was approved, Sanders pledged to ensure his views are reflected even if that means contesting party orthodoxy on the floor of the convention…
That's the same way my neurotic little rescue dog attempts to "put his stamp" on the world — by pissing on anything he can't see as immediately useful to himself. (Anyone want to poll President Obama's approval rating among Democratic voters, as opposed to that of Senator Sanders? Anyone want to poll what percentage of those voters have even heard of Professor Cornell West?) Silly old git is hooked on his own grift, and of course the Media Village Idiots love the chance to fly their favorite Dems in Disarray flag again:
(CNN)Bernie Sanders said Friday he will likely vote for Hillary Clinton for president in November, the strongest expression of support yet from the Vermont senator, but he left the door open that he could change his mind…

"My job right now as a candidate is to fight to make sure that the Democratic Party not only has the most progressive platform in the history of the Democratic Party, but that that platform is actually implemented by elected officials," Sanders said on CNN.

He also declined to say whether the time will come that he fully endorses Clinton, saying he is waiting to see what she says about his priorities. He also would not say explicitly, when pressed by Cuomo, that she won the nomination fairly…
Perhaps the senator confused media using him to drive a narrative with adulation or support. https://t.co/Wt6XNxqabg

— Al Giordano (@AlGiordano) June 24, 2016
Thursday night:
Sanders walks back pledge to vote for Hillary Clinton about an hour after saying he would https://t.co/AdL2TXPX6B pic.twitter.com/6ZwpHXVsx2

— Raw Story (@RawStory) June 24, 2016
A defiant Bernie Sanders is urging his supporters to continue his fight against the Democratic establishment, as the Vermont senator continues his quest to overhaul the party he only recently began associating with.

Ignoring calls to formally suspend his presidential campaign and back presumptive nominee Hillary Clinton, Sanders is hoping to encourage a new wave of progressives to join Democrats' ranks and cement his key proposals into the party's platform.

Speaking to supporters in New York City on Thursday in an address titled "Where We Go From Here," Sanders outlined several key concessions he intends to extract from Democrats at the convention next month….
Colbert still probing Bernie on what he wants from negotiations. "Do you want to be ambassador to Narnia?"

— Hunter Walker (@hunterw) June 23, 2016
Colbert now asking Bernie to envision a "world where you're going to end your campaign at some point" and pick a favorite memory from it.

— Hunter Walker (@hunterw) June 23, 2016
Pitch from Team Bernie NV to put Sanders on the ballot here as an indie is unintentionally comical. Enjoy: pic.twitter.com/Kx0vqRMDk5

— Jon Ralston (@RalstonReports) June 23, 2016
Yes, yes, we get it, you've told us often enough: The Senator is a proud and sensitive man, almost as touchy as his noisiest supporters, and he needs to be gently detoxed. Can somebody get us a date certain?
Bernie's slow fade–now saying he'll vote for Hillary in November, but not conceding or endorsing–is still weird to me

— Nate Cohn (@Nate_Cohn) June 24, 2016
Ed Kilgore, in NYMag:
… The more Sanders dances around these obvious questions, the more he will, of course, be asked them. So here's some unsolicited advice: (1) Come up with a formulation for your attitude toward Clinton's candidacy and stick to it robotically (ask your Senate colleague Marco Rubio for advice on how to do that, if you find this difficult); and (2) either develop a clear list of demands you are making in exchange for your endorsement, and don't keep changing it, or avoid specifics altogether and talk vaguely about a "revolution."

Without question, Bernie Sanders is in a difficult position. The whole world knows he will eventually have to support Clinton; the longer he delays supporting her, the more enthusiastic he will have to be, and the longer the path from here to there becomes. Being publicly churlish about Clinton does not increase his actual leverage, but it does embolden the Bernie or Bust faction of his supporters who may be hoping he'll stay neutral or get behind Jill Stein…
The Sanders paradox: He stays in the news by not quitting, but the only story is "has he quit yet?" https://t.co/S2zvsd9T2j

— daveweigel (@daveweigel) June 24, 2016
Our country needs somebody who brings us together, not divides us up. https://t.co/lzjPc6jUn3

— Bernie Sanders (@BernieSanders) June 23, 2016
You need to unequivocally come together with the party nominee to defeat the divider. Like, today. https://t.co/QAG31kmf15

— Bob Schooley (@Rschooley) June 24, 2016