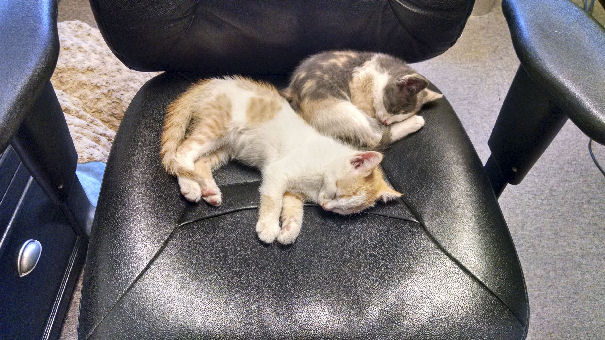 Frequent evening commentor Miss Bianca:
OK, I've been bragging on the Office Kittens and everyone's all like, "pics or they don't exist!"

For the record, I'm a 'dog and cat' kind of gal – but having a Siberian Husky at home makes house cats out of the question. So being designated as "cat mamma" to the Office Kittens (our baby mousers!) has been my dream come true – I get my dog fix at home and my cat fix at work!

The orange and white one is Pancho (he's the boy) and the little tricolor is Lefty (she's the girl). They're both serious snugglers.

Annnd…sleepy kitties are awake!
Much more pleasant way to start the morning than the alternatives.
What else is on the agenda, as we start another day?