Heading out east to the retirement party of one of my partner's colleagues. (We will be in Davidson, NC – email me if you want coffee.) We had planned for months to overnight in Beckley, WV, which is in the flood zone. So, inspired partly by John's fundraising, I decided to solicit donations and see if we could fill the minivan.
Kalamazoo came through nicely. The entire car is loaded with people food, pet food, bottled water, and baby stuff; also, lots and lots of blankets, towels, and bedding. And lots and lots and LOTS of cleaning supplies. (Thanks for the good advice, commenter J R in WV!) We've also got (hope no one is bugged by the commercial links; these people did good)…
200 packages of Heilman's gourmet nuts in bags poetically labeled, "Nuts for You from Kalamazoo" (BTW they ship.)
A bunch of Dr. Bronner's hemp-based soap and Manitoba Harvest Hemp Hearts (nutritious and vegan!) from a nice woman who helped organize this year's local Hemp History Week event. (Hemp is good, right Juicers?)
Fastsigns—there may be one near you!–donated the sweet magnetic car signs. (See below.)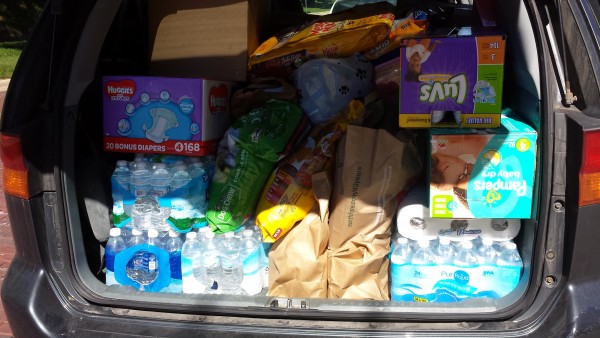 My partner and I probably spent the equivalent of an eight-hour day contacting people, picking up stuff, and filling the car. (He's a good filler; obviously has the Tetris gene.) You could argue that it would have been more efficient just to write a check, but connecting with people, both in Kzoo and Beckley, has been wonderful; and people really seemed to love and appreciate the opportunity to donate.
It's an eight-hour trip to Beckley, and I'll let you all know how things go.
(Now, where did I put my show tunes…)