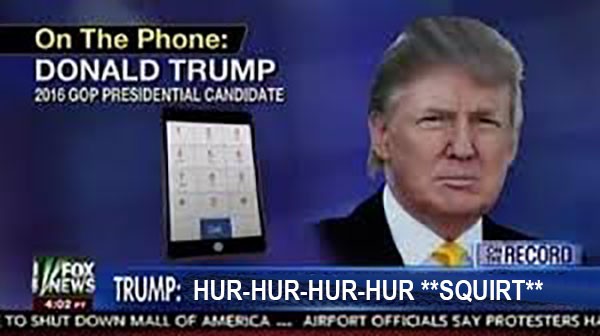 Did Donald Trump use a secret phone console to listen in on guest and employee calls at his Mar-A-Lago resort? Probably! Via Buzzfeed:
At Mar-a-Lago, the Palm Beach resort he runs as a club for paying guests and celebrities, Donald Trump had a telephone console installed in his bedroom that acted like a switchboard, connecting to every phone extension on the estate, according to six former workers…

BuzzFeed News spoke with six former employees familiar with the phone system at the estate. Four of them — speaking on condition of anonymity because they signed nondisclosure agreements — said that Trump listened in on phone calls at the club during the mid-2000s. They did not know if he eavesdropped more recently….

"He listened in," said one source with deep knowledge of the working of the phones and Trump's phone use. This person added that workers were told to be aware of it. For example, this source recalled a time when a staff member was on the phone with a club member. During the phone call, Trump called the staff member on another line to weigh in on the very issue that was being discussed. "There is no other way you could know what that conversation was about unless you were eavesdropping," this source said.

A second source said he had direct knowledge that Trump "could pick up the phone in the bedroom and listen to any conversation that was going on." This person said Trump used it "to eavesdrop." This source said that some staff, who used a separate switchboard, knew when Trump was listening in on calls, because when he did, a light on that switchboard would come on…

The two former Mar-a-Lago officials who said there was no eavesdropping acknowledge that there was a switchboard in Trump's room. One, who left Mar-a-Lago last year to pursue real estate, is John Velez, the former Mar-a-Lago director of security. "He had a switchboard," Velez said, but "the switchboard is just for him to dial out."

Velez called it "ridiculous" that Trump could listen in on phone calls. Instead, Velez said, Trump used the console just so that he would not have to use a dial pad or call the operator. "Trying to remember extensions to every suite is impossible," he said.
Yeah…it makes a lot more sense to install a console with a line to every suite instead of issuing a phone directory.
[T]he tycoon's former butler, Anthony Senecal…maintains that this was for simplicity's sake. "A lot of his friends stayed at Mar-a-Lago and he didn't want to go through the front desk."

Senecal said he did not know whether the phone could be used by Trump to eavesdrop on calls. "As far as listening in I can't believe he would ever do that. I don't know that he ever did that. I can't see him doing that."
Yeah, the insane racist butler is totally credible. Damn, Trump is one creepy mofo.