There are certain things a Trump Veep must be willing to do to fit in with the boss. pic.twitter.com/04G5WWT8yd

— Bob Schooley (@Rschooley) July 1, 2016
NEWT GINGRICH and CHRIS CHRISTIE are being formally vetted for VP, per multiple sources. My latest w/ @ktumulty: https://t.co/kNEdqzV3Sr

— Robert Costa (@costareports) June 30, 2016
As was widely reported a couple of weeks ago, Trump once told a TV producer, "People will watch if you have a funny fat guy around." Per the Washington Post, it would seem Lord Short Thumbs is using the same criteria for his vice-presidential pick as he did for his TV show:
… Given Trump's unpredictability, campaign associates caution that the presumptive Republican nominee could still shake up his shortlist. But with little more than two weeks before the start of the Republican National Convention, Gingrich and Christie have been asked to submit documents and are being cast as favorites for the post inside the campaign. Gingrich in particular is the beneficiary of a drumbeat of support from Trump confidants such as Ben Carson.

A number of senators — including Jeff Sessions (Ala.) and Bob Corker (Tenn.) — are also being reviewed as viable picks, although the extent to which they are being vetted is unclear. A longer shot on Trump's radar is Indiana Gov. Mike Pence, a heavyweight on the right who could bolster Trump's tepid support among some conservative activists…
If the late great Doghouse Riley hadn't already gone to his reward, bringing up Mike Pence would definitely kill him.
…The contenders under the most serious consideration, such as Gingrich and Christie, have been asked by attorney Arthur B. Culvahouse Jr. to answer more than 100 questions and to provide reams of personal and professional files that include tax records and any articles or books they have published.

Culvahouse, a former White House counsel who is managing the vetting for Trump, was the lawyer who vetted then-Alaska Gov. Sarah Palin for the GOP vice-presidential nomination during the 2008 campaign…
My emphasis. Let that sink in, for a minute.
Speaking of pudgy bullies with an entirely undue sense of entitlement, guess who is over 35 and born in America?…
You guys, you know what I just realized: Boris Johnson is available to serve as Donald Trump's running mate.

— Josh Barro (@jbarro) June 30, 2016
But (heh, heh) seriously, folks…
… The timing of Trump's announcement was for months expected to happen close to the convention. But campaign aides are now discussing moving it up, perhaps to later next week so the ticket can generate headlines and coverage — and win over party leaders — ahead of the party gathering in Cleveland…

Gingrich would bring with him a history of battling with presumptive Democratic nominee Hillary Clinton, going back to their public fights over health care and Bill Clinton's agenda and ultimate impeachment in the 1990s during her husband's presidency…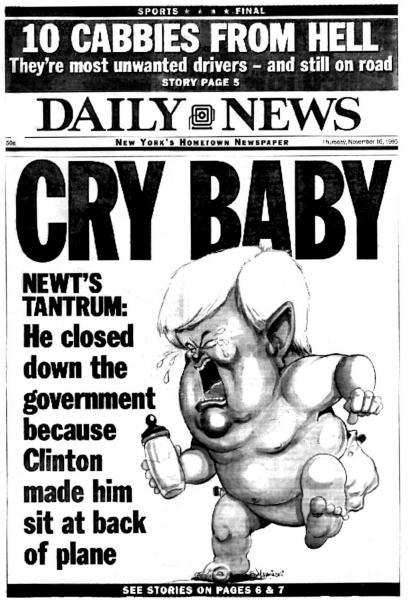 (via NYDN)
… Trump's inclination toward naming a seasoned player has been encouraged by Manafort, the longtime GOP insider who has taken full control of the process following Trump's firing of Corey Lewandowski, who had been campaign manager.

Yet even as Manafort steers the selection and as members of Trump's orbit — especially his children and son-in-law Jared Kushner — informally weigh in, there is a collective understanding within the campaign that Trump's voice is the only voice that matters. One person involved in the process suggested the ultimate decision will come down to a committee of one: Trump. "This is in his head," the person said. "It's up to him."…
Oh dear God the swimsuit competition…. https://t.co/KjslVpFUZg

— Daniel Drezner (@dandrezner) June 30, 2016
Much more at the link, including a sercon (serious, constructive) interactive graphic where you can inspect a roster of the lucky 35 mooted to have the best chances.
Newt Gingrich had a ~25% favorable rating and ~60% unfavorable rating when pollsters last asked about him in 2012. Almost as bad as Trump.

— Nate Silver (@NateSilver538) June 30, 2016
It's too bad Rob Ford is Canadian and dead. https://t.co/CUKmYTkKEg

— Josh Barro (@jbarro) July 1, 2016
@NateSilver538 Christie is polling 26% in NJ and that's *before* a giant gas tax hike, but he's in the mix. Anything is possible here.

— Kevin M. Kruse (@KevinMKruse) June 30, 2016
I can think of 100 million reasons why @realDonaldTrump might pick @newtgingrich as his running mate. pic.twitter.com/UmsTjxjyN8

— Kenneth P. Vogel (@kenvogel) July 1, 2016
If Trump picks Gingrich:
1. Adelson guy as running mate
2. Adelson guy's (@AndyAbboud) nephew as comms guy
3. Adelson $ floweth?#wematter

— Jon Ralston (@RalstonReports) June 30, 2016