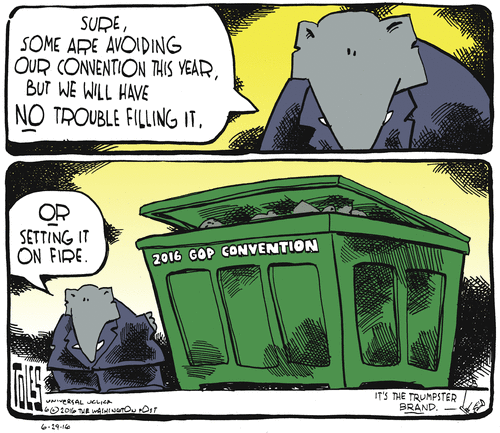 Trump's lack of fundraising makes sense when you realize all the fat cat GOP donors are instead pooling their money for his go away bribe.

— Bob Schooley (@Rschooley) June 30, 2016
Talk about an embarrassment of riches — highlight on embarrassment. The Washington Post, paper of record in the company town whose major industry is politics, on "The many unknowns of the GOP convention":
Dozens of well-known Republicans aren't showing up. There's no word yet on who will speak. A growing number of corporate sponsors are taking a pass. Groups of white supremacists and other agitators are on the way, while the official protest routes are frantically being redrawn after being thrown out in court. And then there's the fight to dethrone the big star.

With less than three weeks to go, Donald Trump's Republican National Convention in Cleveland is poised to be the most chaotic GOP gathering of the modern era…

The four-day meeting kicks off July 18 at a downtown basketball arena, with Trump scheduled to formally accept the nomination on July 21. Convention organizers denied reports that several sports figures would be speaking at the convention. There's still no official word on who will speak or entertain the delegates. Lee Greenwood, who has performed his hit "God Bless the USA" at several GOP conventions, declined through a spokeswoman to say whether he's attending. Singer Ted Nugent, a Trump fan, is skipping the convention despite numerous invitations to appear "due to our intensive concert touring schedule," a spokeswoman said…
SCOOP: Trump camp lining up iconic sports figures to appear at GOP convention: Mike Tyson, Mike Ditka, Bobby Knight. https://t.co/3mfNeweat4

— Jennifer Jacobs (@JenniferJJacobs) June 28, 2016
Seems like a good plan: Make the Republican National Convention as much like Celebrity Apprentice as possible https://t.co/ppAXcKB8zG

— Dan Pfeiffer (@danpfeiffer) June 28, 2016
Ditka declines to talk at convention, says GOP has its "head up its ass," calls Republicans "a bunch of assholes" https://t.co/fLJVSCeH0j

— Dan Hinkel (@dhinkel) June 29, 2016
Team Trump yesterday: We've lined up @miketyson for convention https://t.co/h1CLtXKO9v

Tyson's rep now: "He'll be nowhere near Cleveland"

— Asawin Suebsaeng (@swin24) June 29, 2016
… Before completely focusing on presumptive Democratic nominee Hillary Clinton, Trump first must quell a potential insurrection at his own convention. He's preparing a team of 150 staffers and volunteers designed to corral votes, push potential changes to the party's platform and, most importantly, block any attempt to unseat him.

A plan to allow convention to vote however they want, rather than follow the results of their state's primary, has earned the support of hundreds of delegates upset by Trump's impending nomination, according to Free the Delegates, the group pushing for the change.

But a five-member Trump "study committee" is focused on quashing any effort to unbind delegates…

The pro-Trump pushback appears to be working. Free the Delegates is struggling to win votes on the 112-member rules committee, which is scheduled to consider the group's proposal in the week before the convention. But Kendal Unruh, the leader of the group, said it is clearly succeeding if Trump feels compelled to divert resources and focus on defeating the effort.

"We've got a candidate who lied to everyone and said he's going to self-fund" Unruh said, referring to Trump's paltry campaign coffers. "I'm sure he has more staff at the convention than he does on his national campaign."…
Woah, Ken McKay of Trump super PAC tells @LACaldwellDC that they don't actually have $32 million in donations. https://t.co/K1DELcXsAL

— Teddy Schleifer (@teddyschleifer) June 29, 2016
… The anticipated chaos has dissuaded several vulnerable Republicans and once-generous corporate sponsors from showing up.

Members of the Bush family, including the former presidents, are planning to skip the convention even though they essentially helped build the modern GOP. Mitt Romney, the party's 2012 nominee, also won't be there… Sen. Roy Blunt (Mo.), the fourth-ranking Senate Republican, will be in Missouri tending to a closer-than-expected reelection campaign, a spokesman said. Several other incumbents up for reelection are also steering clear, including Sens. Kelly Ayotte (N.H.), John McCain (Ariz.), Patrick J. Toomey (Pa.) and Ron Johnson (Wis.). Two who will be there are home-state Sen. Rob Portman (Ohio) and Sen. Marco Rubio (Fla.), who said he is willing to speak at the convention.

Some vulnerable GOP House incumbents are also skipping, including Reps. Mia Love (Utah), Elise Stefanik (N.Y.) and Carlos Curbelo (Fla.).

In 2012, companies including Amgen, General Electric and Ford ponied up tens of thousands of dollars to officially sponsor the Republican convention in Tampa. This year they cite varying reasons for withholding support; none mention Trump…
Should be a memorable convention … https://t.co/5OtKtESFvo

— Joy Reid (@JoyAnnReid) June 29, 2016
Jim Newell, at Slate, is not at all sarcastic in calling for the GOP "grown ups" to rethink:
… It stinks for Republican politicians who are in competitive re-election fights to have Donald Trump as their presidential nominee. No one wants to be near that.

But here's something for these dignitaries to consider: The convention's not going to be canceled. And most people turning on the idiot box to watch it will come away from their viewing believing that whatever they just saw was the Republican Party's pitch to them in 2016. If no one with anything resembling broad appeal speaks at the convention, then the programming will consist of the C-list celebrities Trump brings in, Newt Gingrich going on about what really grinds his gears for several hours at a time, crank politicians from deep-red districts whose constituents voted overwhelmingly for Trump, and Mikey from Staten Island offering extended commentary about the American League East. This is exactly what I want to watch at the Republican convention—this is all I want to watch at any time, any place, really—but I'm not in charge of managing the image of one of America's two major political parties.

These respectable-type GOP politicians can flee from the convention, but they can't prevent that (R) from appearing next to their names on the ballot. That (R) is what's going to be defined in Cleveland, with or without their input.

So they should speak! Participate! They can say whatever they want onstage. A full-on attack on Trump by name might be too gauche for the occasion, but the convention-speech form of subtweeting Trump can't be hard to slip in. The choice is either that or ceding full ownership of the Republican brand to Donald Trump, which is precisely what their Democratic opponents in down-ballot races want for this fall.
Hush, Jim. If Slate wasn't a notorious hotbed of filthy hippy lie-bruls, you'd be letting our strategy slip!
Mitt Romney says his family is still asking him to mount an independent bid for presidency https://t.co/f6nx1vRGpq pic.twitter.com/wRadVjHa0c

— CNN (@CNN) June 30, 2016
Well, I guess this is better than, Ted "God told me to run" Cruz. https://t.co/AwDnrWDs8G

— Bob Schooley (@Rschooley) June 30, 2016