You all keep asking for Rosie pics and wonder why I never talk about her, and here is the reason why: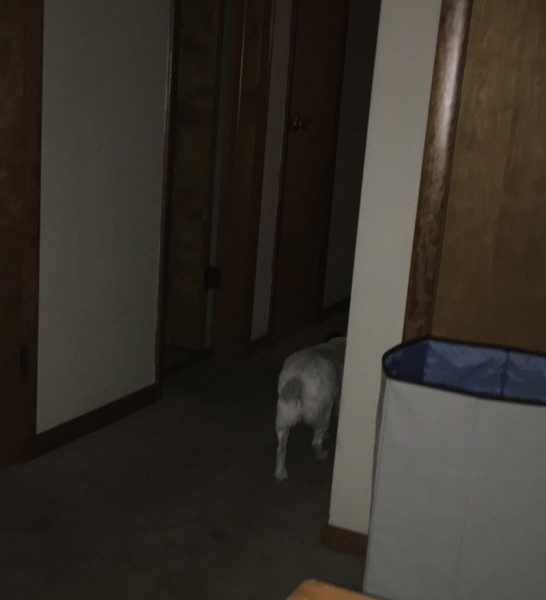 She's just a stubborn old goat and is bitchy, which is her right as a Jack Russell Terrier. She was lying at my feet, and I thought "this would make a nice picture," so I grabbed the camera, said "Rosie" to get her to look, and before the camera could even autofocus she had given me the proverbial middle finger and walked down the hallway. I have several more pictures of her out of focus ass because I followed her to my office to get a good one, but she went under the desk and snarled at me when I tried to take another one.
For those of you who have never been around a JRT or served as one's manservant, "Fuck this shit" is the standard response to humans whenever you want them to do something that is not THEIR idea.
And now I am going to go to bed, and she will race into the bedroom, demand I pick her up and put her on the bed (she can't jump any more because she has bad hips), which I will, and then she will lie in the middle of the god damned bed and get comfy while I brush my teeth, and then she will snarl and snap at me when I try to get into bed and make some room. And then, periodically throughout the night, should I turn or move, she will bark and snap at me.
Because Rosie is a bitch and always has been but I love her anyway. It's what you get when people abuse animals and then dump them in the middle of the woods. But deep down, when you look her in the eyes when she's allowing you to pet her and putting the leash on for a walk or giving her a treat or just skritching her ears before you fall to sleep you know she's a good girl and wants to be a good girl but someone fucked her up and she has trust issues. Plus, she's an old gal now and has pain issues, but we're still making this thing work and we're lucky to have each other.
And she and Thurston just love to rassle.