We arrived in Beckley, WV (see here for why) Thursday night. On Friday, we delivered our donations to the United Way; then filled up with another vanful and convoyed north with another van to Summersville, WV, closer to the main flood area. There was a BIG donation center there in a strip mall.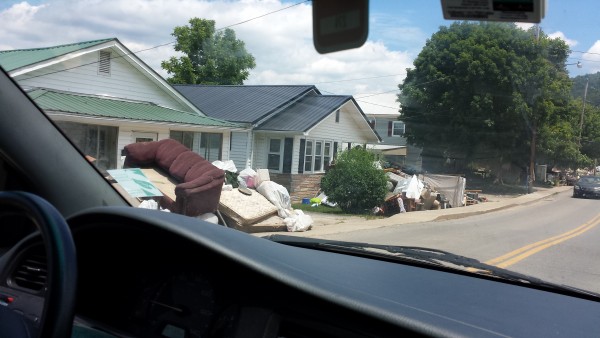 Then we continued on our trip east through the mountains to Roanoke, VA, and onto Davison (NC) (where I'm writing from). It was on that drive that we saw some of the flood damage: many dozens of miles of homes with their ruined possessions piled outside. (See pic.) It seemed endless and surreal, and I'm sure things were even worse off on the side roads that we didn't see.
We also saw lots of roads with the lee side washed out, lots of electrical lines down, etc.
It wasn't all bleak. The people we met in Beckley and Summersville were GREAT, and wow, they really had their act together. Everything was super well organized, and there were tons of volunteers an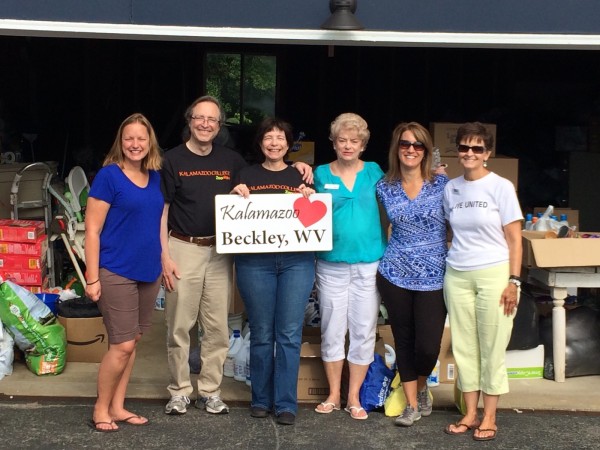 d a constant stream of people showing up with donations. (I'm the one holding the sign, btw; my partner, the Car Tetris champ, is
on my right. Go Hornets!)
Also, I had never been to West Virginia before and the terrain (the drive through the mountains) was outstanding.
Finally, we spent part of the time following these guys: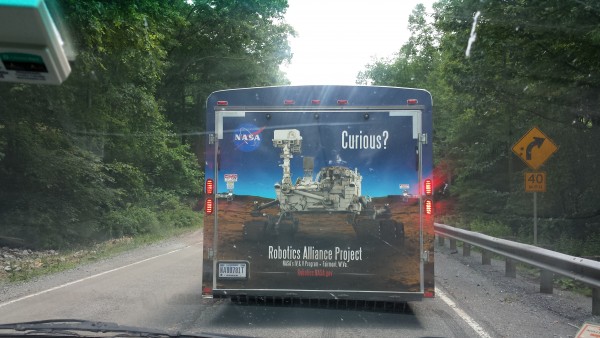 It's a Mars crawler, and they (and we, behind them) crawled on those twisty mountain roads for ages, but being an astro fan girl I didn't mind! (See also: NASA Robotics Alliance Project.)
More to report from our trip shortly. Hope you're all having a great holiday weekend!
If you want to donate cash to WV, I believe the link in John's post still works or here's one to the Beckley United Way. If you're local and want to deliver stuff, they seem to most need baby supplies, pet supplies, cleaning supplies, electric fans (to help dry things), and those big plastic storage tubs (like Rubbermaid) so people can protect their dry stuff.