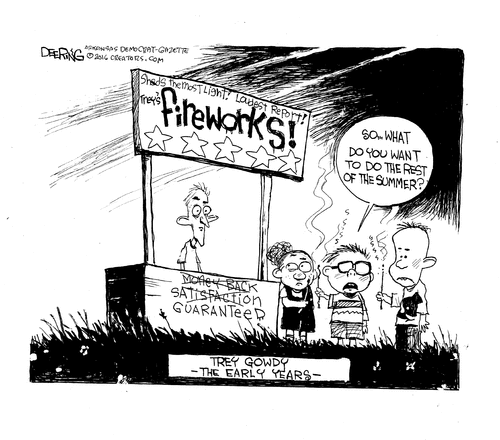 Some tasty leftovers (in my own defense, I did put in a double shift yesterday). Hope you will take them better than the outraged DC-area viewers who swiftly realized that PBS was augmenting last night's weather-dimmed fireworks broadcast with clips from previous years.
Mr. Charles P. Pierce, in Esquire, "It's Time We Called the Declaration of Independence's Bluff":
In this election year, in which kickass women seem to have the upper hand, it's probably good to return to one of the avatars of this here shebeen—Mercy Otis Warren, poet, playwright, pamphleteer, propagandist, patriot, and blessedly ill-behaved society lady of Revolutionary Boston. In her magisterial history of the Revolution, Mrs. Warren had some words concerning the Declaration of Independence, which she generally admired. (Don't get her started on the Constitution, however.) She recognized the Declaration—"drawn by the genius and philosophic pen of Thomas Jefferson, Esquire, a delegate from Virginia"—as a gamechanger…

She also was very much aware of the spirit animating the text, even those parts of it that the men who voted on it were painfully unaware.

"Democratic principles," she wrote, "are the result of equality of condition."

And she meant everybody, too. Women, for example. And slaves, both the actual slaves and anyone treated as such…

She suspected, as Herman Melville later would say outright, that the Declaration of Independence made the difference, that it not only was a statement of revolutionary principles, but that the statement was so profound that it could not be bound by the monochromatic and unisexual demographic of the people who signed it. She sensed that, at its heart, the Declaration was a self-perpetuating land mine in the history of the country that was just then coming to be. (Her dislike for the new federal Constitution in 1789 was based in her belief that it betrayed the Declaration by seeking to freeze its promises in time. She was partially mollified by the inclusion of the Bill of Rights.) And, in this, while she didn't live to see it, she was completely correct…
Pierce goes on to cite Frederick Douglass, Susan B. Anthony, Martin Luther King Jr, and LBJ:
… So, here's to Mercy Otis Warren, and to Frederick Douglass, and to Susan B. and MLK and poor old LBJ, too, kickass women and kickass men who understood that we are children of Revolution, but that this Revolution was based on an enormous bluff that demands to be called by every American generation in its own way. And on this weekend, as we celebrate our independence with bright explosions across the night sky, take a moment and listen for the low rumbling of that land mine in history, detonating again and again, in a thousand places, like a heart that grows stronger with every beat…
And finally, descending from those heights, looks like President Obama is not the only one keeping a rhymes-with-bucket list…
.@JoeBiden to @newtgingrich on potential VP post: "Gonna do it?" https://t.co/lUg1Yg1TI6 @kristenicoleast | AP Photo pic.twitter.com/xTu5mtNouu

— POLITICO (@politico) July 4, 2016
As if the Giant Albino Amphibian wouldn't give his up his Tiffany charge card and the remnant tatters of his self-respect to get so close to the Oval Office. (As if Lord Short Thumbs Trump doesn't know that even better than Newt himself.)
Apart from all that, what's on the agenda as we (most of us) start an abbreviated post-holiday week?