It seems like we might want something new to talk about, and I think I'll follow John's advice and focus on something other than the miseries of the day.
So how about this:
Donald Trump has a problem with bankers — or they with him:
Other Wall Street banks, after doing extensive business with Mr. Trump in the 1980s and 1990s, pulled back in part due to frustration with his business practices but also because he moved away from real-estate projects that required financing, according to bank officials. Citigroup Inc., J.P. Morgan Chase & Co. and Morgan Stanley are among the banks that don't currently work with him.

.
At Goldman Sachs Group Inc., bankers "know better than to pitch" a Trump-related deal, said a former Goldman executive. Goldman officials say there is little overlap between its core investment-banking group and Mr. Trump's businesses.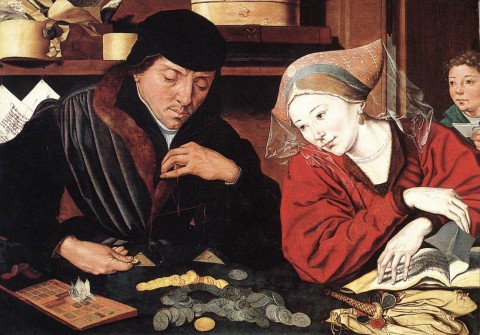 That's why, to a great extent, the Trump organization has come to rely on Deutsche Bank, the one global bank that will do significant business with him:
While many big banks have shunned him, Deutsche Bank AG has been a steadfast financial backer of the Republican presidential candidate's business interests. Since 1998, the bank has led or participated in loans of at least $2.5 billion to companies affiliated with Mr. Trump, according to a Wall Street Journal analysis of public records and people familiar with the matter.
Deutsche Bank started the year by announcing a record-setting loss in 2015 of €6.8 billion.

….

In [recent] weeks, here's what happened:
May 16, 2016: Berenberg Bank warns that DB's woes may be "insurmountable", noting that DB is more than 40x levered.
June 2, 2016: Two ex-DB employees are charged in ongoing U.S. Libor probe for rigging interest rates. Meanwhile, the UK's Financial Conduct Authority says there are at least 29 DB employees involved in the scandal.
June 23, 2016: Brexit decision hits DB hard. The bank is the largest European bank in London and receives 19% of its revenues from the UK.
June 29, 2016: IMF issues statement that "DB appears to be the most important net contributor to systematic risks".
June 30, 2016: Federal Reserve announces that DB fails Fed stress test in US, due to "poor risk management and financial planning".
The DB share price has been cut almost in half since the start of the year, and is at 8% of its all time high.
Will the bank survive? Damned if I know.  This isn't my field and I've just stumbled on the latest reports of its woes.  But one thing seem obvious.
Y'all may have noticed that Herr Drumpf is a candidate for an office that has a significant role in the regulation of credit markets. We've never had anyone this close to the presidency whose wealth was so personally at play in decisions that he and his administration would have to make, were that evil day ever to arrive.  As Russ Choma and David Corn note in Mother Jones,
…the presumptive GOP nominee also has a tremendous load of debt that includes five loans each over $50 million. (The disclosure form, which presidential candidates must submit, does not compel candidates to reveal the specific amount of any loans that exceed $50 million, and Trump has chosen not to provide details.) Two of those megaloans are held by Deutsche Bank, which is based in Germany but has US subsidiaries. And this prompts a question that no other major American presidential candidate has had to face: What are the implications of the chief executive of the US government being in hock for $100 million (or more) to a foreign entity that has tried to evade laws aimed at curtailing risky financial shenanigans, that was recently caught manipulating markets around the world, and that attempts to influence the US government?
There's a little schadenfreude to be added to the terror that Herr Drumpf might actually reach the office in which that conflict of interest becomes real.  That, of course, comes in the thought that [I so devoutly hope] on November 8, the Donald will return to a business wholly dependent on other people's money, to face a financial community in which there's no one left willing to lend him a dime.
A boy can dream….
Image:  Marinus van Reymerswaele A Banker and His Wife, first half of the 16th century.