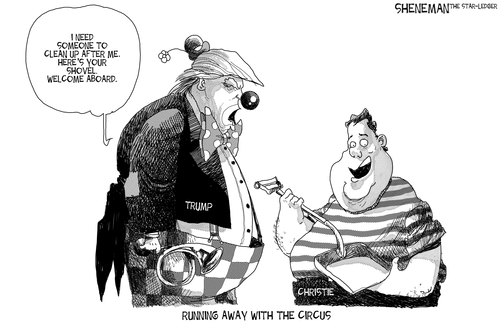 I'm joking, and they probably won't do it, but Trump would really fucking enjoy it if they did.

— Josh Barro (@jbarro) July 7, 2016
After a week like this, I think we're all entitled to a little mindless entertainment, and it doesn't get any more mindless than this year's Republican presidential contest…
Newt is the only pick being talked about who would generate some excitement but with the downside of his indiscipline & baggage

— Rich Lowry (@RichLowry) July 7, 2016
They're going to have "Indiscipline & Baggage" painted on the side of the campaign bus. https://t.co/qKo3bugmuI

— Josh Barro (@jbarro) July 7, 2016
Newt Gingrich tells me that he encouraged Trump to keep up Star defense as they flew back to NYC last night

— Robert Costa (@costareports) July 7, 2016
From Costa's Washington Post article:
… "That was a very deliberate reopening of the same conversation," Gingrich said in an interview Thursday. "He has concluded that you guys in the media will kill him unless he destroys your credibility. Guaranteeing that the media is not believable is a significant building block of this campaign, as important as showing that Hillary Clinton is corrupt."

The moment was a telling sign of how the two align, especially when it comes to how to respond to controversy. It also captured the bond between Gingrich and Trump, two consummate insiders who see themselves as outsiders, if not loners, and as having never been fully embraced by "the elites," whether in Washington or on Wall Street.

That mutual sensibility has elevated Gingrich to Trump's shortlist to become his running mate. If picked, Gingrich would function not only as a seasoned hand at Trump's side but also as his alter ego: a combative, populist-sounding politician who relishes clashes with reporters and tearing into presumptive Democratic nominee Hillary Clinton…
Much as these two lifelong grifters have in common, and skilled as Newt may be in the dark arts of courtiership, I see one giant roadblock to a Combover Caligula/Giant Albino Amphibian ticket: No moderately vain man of Gingrich's age with such a fine head of hair can resist flaunting his glory. And Newt (as he would be the first to tell us) does nothing in moderation. Were he, after a long day of joint campaigning, to so forget his place as to verbally tweak Lord Short Thumb's lesser mane… well, the Secret Service has been trained to spring into action at the first sign of violence, and I'm sure they could wrest the steak knife out of Trump's hand before he could corner Newt against the buffet table.
@costareports My question is: when Newt asked for more peanuts and an extra pillow, did Christie hustle them up?

— Tim O'Donnell (@TimODee16) July 7, 2016
Apart from buying more circus peanuts (speaking of which: has any enterprising entrepreneur got plans for selling marshmallow candies molded in the likeness of the GOP candidate at their Cleveland convention? And if not, why not?), what's on the agenda for the weekend?
Trump-Gingrich 2016: Build a Wall on the Moon!

— Phil Klinkner (@pklinkne) July 7, 2016