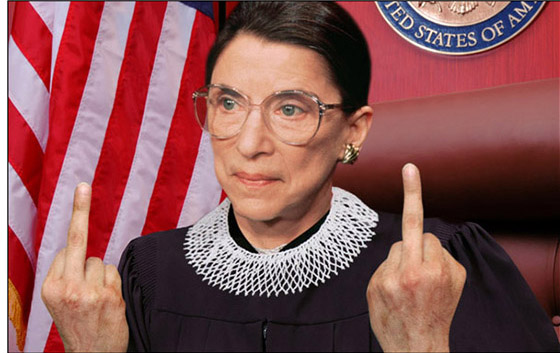 Last week, Justice Ruth Bader Ginsburg revealed the startling intelligence that she'd rather not see a racist, sexist, xenophobic, self-aggrandizing demagogue appoint a successor for her or a fellow justice. The sturdy oak legs upholding Beltway fainting couches were groaning under the weight of their owners' insensate carcasses within seconds. Justice Ginsburg doesn't give a shit about that. Yesterday, she amplified her remarks for CNN:
"He is a faker," she said of the presumptive Republican presidential nominee, going point by point, as if presenting a legal brief. "He has no consistency about him. He says whatever comes into his head at the moment. He really has an ego… How has he gotten away with not turning over his tax returns? The press seems to be very gentle with him on that…"

"I think he has gotten so much free publicity," she added, drawing a contrast between what she believes is tougher media treatment of Democratic candidate Hillary Clinton and returning to an overriding complaint: "Every other presidential candidate has turned over tax returns."
Looks like No-fucks-left-to-give-itis has spread from the White House to the Supreme Court.
PS: The belief that RBG should have retired early in PBO's first or second term is a perfectly legitimate point of view. I don't happen to share it, but, fine, wevs. However, here's a pre-emptive "GFYS" and a bonus "you're not fit to trim her bunions" for the commenters who invariably show up in threads that mention RBG to call her names like "selfish asshole" because she didn't retire on their timetable.
Oh, and open thread.