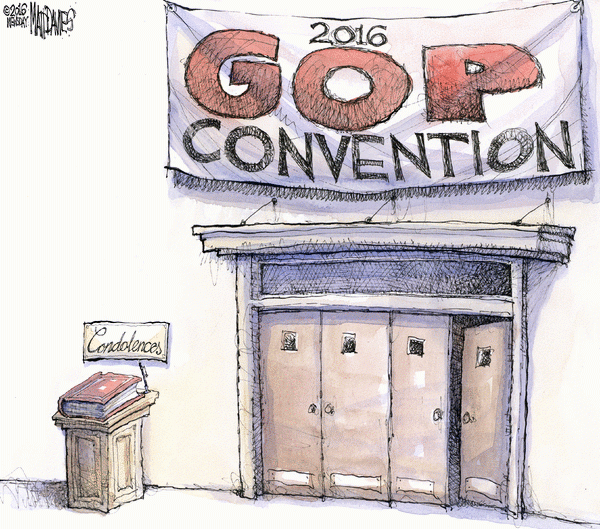 GOP Platform Committee just added language stating opposition to restricting magazine capacity & banning AR-15 rifles. There was no debate.

— Reid J. Epstein (@reidepstein) July 12, 2016
The people responsible for writing the 2016 GOP platform are… divided. Per Buzzfeed:
…[A] growing number of delegates — unofficially labeled as "the brevity caucus" — [have become] frustrated with the volume and complexity of its party's platform. These delegates believe the more than 60-page draft platform is straying from its original purpose of communicating the party's principles to voters and veering off into unnecessary, wonky debates.

"There's two main camps right now: There's a small group, who want to use this for door-knocking," said Ben Barringer, a delegate from Iowa. "The other groups wants to use it to holding legislators accountable. They want to be more verbose."…

Graves later told BuzzFeed News in an interview that the platform committee included "frustrated policy wonks" and that the platform was getting too long and complicated to share with the average voter.

"It needs to be more of a communications tool and not the Magna Carta," she said. "I don't know who reads these many, many pages."…
Checking off every single ideological box is a trademark of parties whose members feel doomed to minority status, and this year's Repubs have a long, long list of boxes to check.
Platform committee debating definition of "unborn" versus "preborn" babies

— Igor Bobic (@igorbobic) July 12, 2016
GOP platform committee approves long amendment condemning U.S. v. Windsor and Obergefell decisions & quoting Scalia

— Zeke Miller (@ZekeJMiller) July 12, 2016
Per the Washington Post:
The Republican Party on Tuesday moved closer to firmly embracing a series of staunchly conservative positions on abortion, gay rights, gun rights and immigration reform in a platform document that takes sharp aim at Obama administration policies and reinforces long-standing party orthodoxy on major issues.

Among the specific policies the platform committee endorsed here is a "border wall" that would cover "the entirety of the Southern Border and must be sufficient to stop both vehicular and pedestrian traffic."…

There was widespread agreement on the party's position on economic and national security issues and the tougher stance on social issues reinforced the party's conservative view despite Trump's calls for relaxed abortion restrictions and his support for some rights for gay and transgender Americans.

Trump was barely mentioned by the 112-member platform committee, composed mostly of longtime conservative activists. The candidate and his team had little presence during the discussions, ceding the details of the platform to party faithful…
Proposed GOP Platform amendment on Islamic terrorism begins "We are a nation at war!"

— Reid J. Epstein (@reidepstein) July 12, 2016
Amendment softening party's position on women in combat defeated. #RNC2016

— Ed O'Keefe (@edatpost) July 12, 2016
Last-minute amendment proposed by NY delegate Dickerson to delete the entire platform fails after chair Barasso rules it out of order.

— Igor Bobic (@igorbobic) July 12, 2016
And then the last Republican president showed up on everybody's social media feeds, just to remind us how bad things were, and could be again…

(via The Hill)
Solemn, formal occasions have always been difficult for Dubya to endure, but trying to start a line dance at a memorial service is… special.