Here's why #NN16 — in 11 years of existence, never a hotbed of Hillary support — applauded her. https://t.co/ULiRHqyDCj

— daveweigel (@daveweigel) July 16, 2016
No garden pics this week — guess everybody's too busy working outside and/or melted down into puddles of mulch-enriched sweat — so here's a different form of uplift. From that Washington Post article:
ST. LOUIS — Hillary Clinton will call for a constitutional amendment to "overturn Citizens United" in her first 30 days as president and plans to make that announcement today to progressive activists at the annual Netroots Nation conference.

"I will also appoint Supreme Court justices who understand that this decision was a disaster for our democracy," Clinton will say in a video message, scheduled to run near the end of today's final keynote session. "I will fight for other progressive reforms, including small-dollar matching and disclosure requirements. I hope some of the brilliant minds in this room will seek out cases to challenge Citizens United in the courts."…

Since 2010, the Citizens United decision has become a metonym for a series of conservative Supreme Court decisions that unwound campaign finance regulations. Democrats have repeatedly tried to pass disclosure measures, as well as an amendment to the Constitution, intended to reverse the decisions. Republicans, often led by Sen. Ted Cruz (Tex.), have characterized those efforts as attacks on the First Amendment.

Even though the case was fought over an anti-Hillary Clinton documentary, Sen. Bernie Sanders (Vt.) became its most prominent critic in the 2016 primaries. He never finished a speech without mentioning Citizens United v. Federal Election Commission, blaming it for the money gushing into politics, and pledging to appoint a Supreme Court that would undo it…
@daveweigel NN is still a thing? Aging Daily Kossers? Hasn't merged with AARP yet?

— glittersniper (@glittersniper) July 16, 2016
Turned into a pretty vibrant and fluid conference of social justice/political activists, actually. https://t.co/NDpBwIRbYR

— daveweigel (@daveweigel) July 16, 2016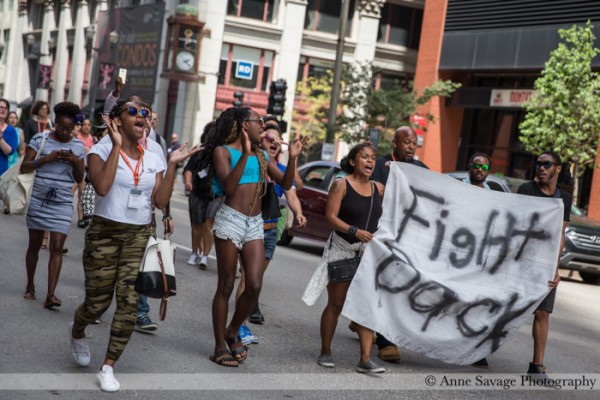 Chris Savage of Eclectablog reported:
[Saturday] afternoon, I was sitting in a Netroots Nation 2016 panel titled "Rejecting the Pale, Male and Stale Leadership Pipeline: Roadmap to Building Inclusive Orgs". Suddenly, a group of young, mostly African American burst into the room carrying a spay-painted banner that read "Fight back". They told us they were marching to meet a Black Lives Matter protest in downtown St. Louis. They went from room to room, including the "Townhall" area where the booths and social area were located, encouraging attendees to join the protest.

Anne and I joined the march which went through the middle of town chanting and doing call-and-response before we ended at the entrance ramp to Interstate 64…

The entire event was well-organized, well-executed, and peaceful. The St. Louis police monitored the situation but kept their distance without interfering. In a conversation with one cop afterwards, he told us that they had to have a presence because if something had happened and someone got hurt, they needed to be there. They faced being accused of not caring otherwise. But he commended the protesters for being peaceful and respectful…
Also a certain Very Serious Person took a well-earned victory lap, via video:
Netroots Nation 2017 will be held in Atlanta, August 10-13.
Apart from #Don't Mourn Organize, what's on the agenda for the day?