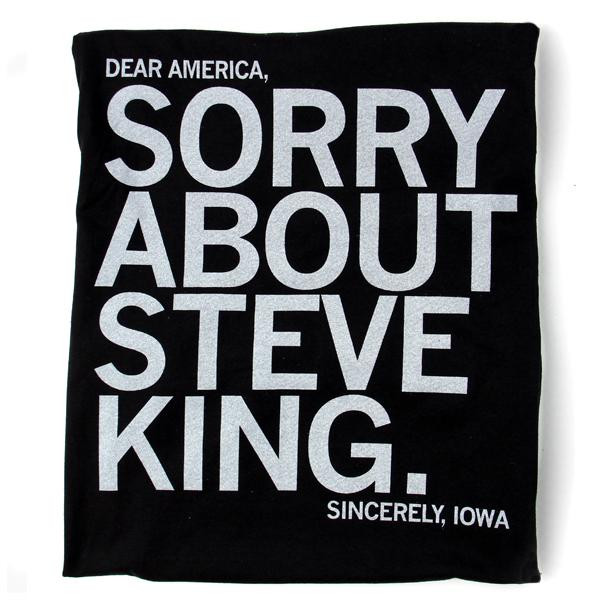 Rep. Steve "The Dumb One" King could not bear to let a whole week of Repub arseholery go on wide broadcast without contributing his own special blend of xenophobia and ignorance to the mix. Per Gawker:
During a discussion of the Republican party's overwhelmingly white leadership on MSNBC, birther congressman Steve King chimed in on Monday to remind everyone that white people are very good (perhaps even better??) compared to "other sub-groups of people."

"This whole 'white people' business does get a little tired," said King. "I'd ask you to go back through history and figure out where these contributions that have been made by these categories of people that you're talking about—where did any other sub-group of people contribute more to civilization?"…
1. I was pretty taken aback by Steve King's comments. I probably should've blown through beak and let @AprilDRyan respond. But…

— Christopher Hayes (@chrislhayes) July 18, 2016
2. The entire notion of debating which race/civilization/ "sub group" contributed most or is best is as odious as it is preposterous.

— Christopher Hayes (@chrislhayes) July 18, 2016
3. Which is why I said "we're not debating this here." But I hear people who think I made the wrong call in the moment. Maybe I did.

— Christopher Hayes (@chrislhayes) July 18, 2016
I can see Hayes — not a battler by nature — being too dumbfounded to respond to a statement so wrong on so many levels. But he could have let the other panel members point out how wrong King was, in the moment. That's how the modern GOP has succeeded so far: by screaming out lies faster than the sane people can rebut them.