I thought we might want a little space that's completely (well mostly) free of our second-time-farce production of Triumph of the Will, so here's some random thoughts for a Wednesday night.
I had a productive day on my book, as it happens, so in my attempt to [ETA: keep] my head in late 17th century London, here are a couple of tidbits.
First, I'd say this was a pretty good day's work:
"Th., Jan. 22nd [1680]–Society met, read Lewenhook. Archimedes refuted. Diurnall motion of Earth established."
That's from Robert Hooke's diary.  All I've can say is that I've gotten less done in some years.
Next, with the possible exception of Betty (and Charles Pierce), I'm not sure any of us will come close to the magnificence of 18th century invective.  Here's publican and satirist Ned Ward on those he met on an amble through the Royal Exchange in 1698 or 1699:
We then proceeded and went on to the Change, turn'd to the Right, and Jostled in amongst a parcel of Swarthy Buggerantoes, Preternatural Fornicators, as my Friend call'd them, who would Ogle a Hand­some Young Man with as much Lust, as a True-bred English Whoremaster would gaze upon a Beautiful Virgin. Advertisements hung as thick round the Pillars of each Walk, as Bells about the Legs of a Morris-Dancer, and an Incessant Buz, like the Mur­murs of the distant Ocean, as a Diapason to our Talk, like a Drone to a Bagpipe. The Wainscote was adorn'd with Quacks Bills, instead of Pictures; never an Emperick in the Town, but had his Name in a Lacquer'd Frame, containing a fair Invitation for a Fool and his Money to be soon parted; thus he that wants a dry Rogue for himself, or a Wet-Nurse for a Child, may be furnish'd here at a Minutes warning. After we had squeez'd our selves thro' a Crowd of Bumfirking-Italians,  we fell into a throng of strait-lac'd Monsters in Fur, and Thrum-Caps, with huge Logger-Heads, Effeminate Wastes, and Buttocks like a Flanders-Mare, with Slovenly Mein, Swinish Looks, whose upper Lips were gracefully adorn'd with T—d-colour'd Whiskers, these, with their Gloves under their Arms, and their Hands in their Pockets, were Grunting to each other, like Hogs at their Pease; these, my Friend told me, were the Water-Rats of Europe, who Love no Body but themselves, & Fatten upon the Spoils, & Build their own Welfare upon the Ruin of their Neighbours.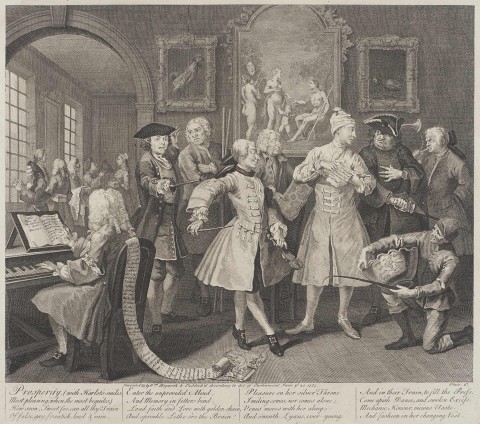 I guess the resonance there is with the fine tolerance for strangers and immigrants seen here.  Certainly, like supporters of a presidential candidate of the elephantine persuasion Ward's got no time for one group in particular:
There likewise was the Lords Vagabonds the Jews, who were so accurs'd for their Infidelity, that they are generally the richest People in all Nations where they Dwell…
Old hates mature — like wine into vinegar — and so we attain our present circumstance.
Anyway, to finish on a high note, consider this wise beast: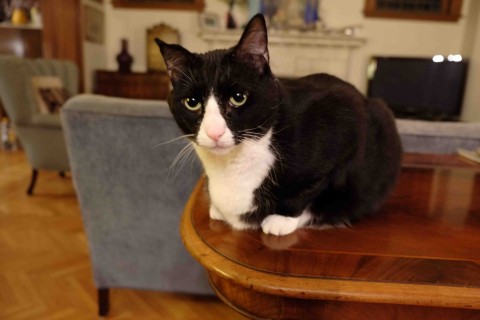 That's a "Lord what fools these mortals be" gaze if ever there was one.  Alternatively "Why has my hooman again failed to feed me?"
Open thread….
Image:  William Hogarth, Prosperity, with Harlot's smiles," from "A Rake's Progress," 1735.