I've come to dislike Trump's adult children almost as much as I abhor their despicable father. I realize it isn't their fault that they are trophy-wife crotch-fruit sired by a narcissistic con man. And as the daughter of a gentleman with appalling political views, I do understand keeping filial affection and partisan affinity separate. But the Trumplings are actively trying to foist their buffoonish oaf of a father off on the rest of us, so fuck them.
Anyhoo, by choice, I missed most of last night's GOP hate-fest, but I did catch the bit when Trump's pampered, obnoxious princelings "threw Donald Trump over the top" with the New York delegation's votes, thus officially securing the nomination for their lying, racist demagogue father, even if they aren't registered to vote in New York themselves.
Then Trump himself appeared on the Jumbotron, his second visitation in as many days at the party convention, where candidates traditionally only show up on the final night to accept the nomination.
Teddy Roosevelt's daughter once said her father had to be "the bride at every wedding and the corpse at every funeral." TR was a humble soul compared to Trump, who can't resist being the entire wedding party and funeral procession. But the background that framed Trump in his pre-acceptance acceptance announcement looked suspiciously like an upscale shower stall: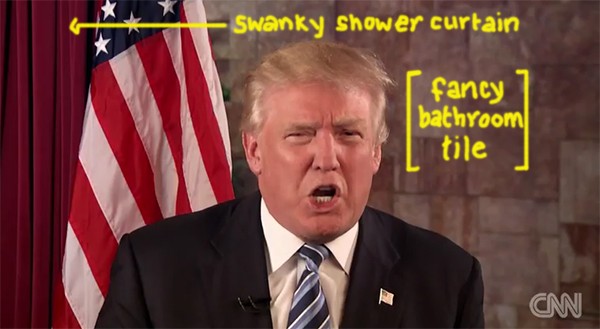 Honest to dog, y'all — I think that flag is hiding a soap tray and shampoo caddy. Even the acoustics sounded restroom-like when the miniscule-fingered, gerbil-headed, apricot-hued nutsack spoke.
So why was Trump broadcasting from the can? Could it be he was driven there by an enraged Mrs. Trump, who had just chased him around the penthouse — flinging bejeweled Jimmy Choo stilettos at him like martial arts stars — in retaliation for the humiliation of making her read a plagiarized speech? Maybe!
Open thread.