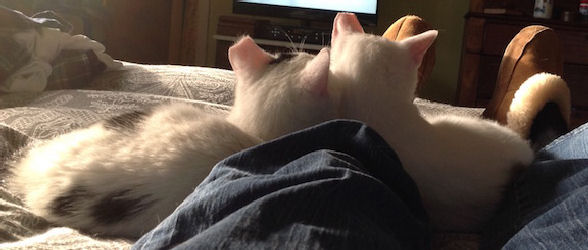 From commentor Anne M:
Meet the Tweedles, a.k.a. Tweedledum and Tweedledee. The picture was taken during a relatively calm moment – these 8-month old kittens go balls-to-the-wall most of the time. They were feral kittens who were rescued when very young. One of my friends says that they "went uptown" from a cage at Petsmart to a 2000 sq. ft. house with a 5-foot cat tree, drinking fountain, and automated litter box (thanks Werebear!).
For the curious, the edgy bodymods are how some trap-neuter-release groups identify the ferals who've already been doctored. Since the clipped eartip is obvious even in low light conditions, rescuers don't have to keep putting those cats through the stress of being trapped & handled. Fortunately these guys were young enough to overcome their aversion to warm beds and modern litterbox technology!
Apart from watching (or not watching) the ongoing RNC meltdown, what's on the agenda for the day?
***********
Also, John Williams is a very nice man:

(via)