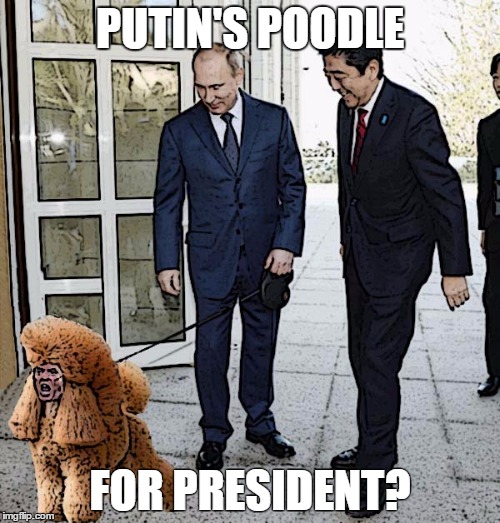 Following up on Adam's excellent post yesterday about the DNC server hack, it looks like the story is indeed gaining legs, with an assist from the president.
CNN:
President Barack Obama won't rule out the possibility that Russian President Vladimir Putin could be attempting to tip the US presidential election toward Donald Trump.

His comments came after US officials said this week that there is strong evidence that the Democratic National Committee data breach was carried out by hackers working on behalf of Russian intelligence.

"Anything's possible," Obama responded when asked during an interview whether Russians could be working to influence the contest between Republican nominee Trump and Democratic rival Hillary Clinton.

"Donald Trump has repeatedly expressed admiration for Vladimir Putin," Obama said during the sit-down with NBC News that aired Tuesday. "And I think that Trump's gotten pretty favorable coverage back in Russia."
WaPo:
President Obama on Tuesday waded into the controversy over the leak of Democratic National Committee emails, saying the hack of party records was characteristic of Russian government behavior and suggesting a potential motive for that country to meddle in the U.S. presidential election.

"What we do know is that the Russians hack our systems, not just government systems but private systems," Obama told NBC. "What the motives were in terms of the leaks, all that — I can't say directly. What I do know is that Donald Trump has repeatedly expressed admiration for Vladi­mir Putin."

Obama's comments align with those made Sunday by Democratic nominee Hillary Clinton's campaign manager, Robby Mook, who said the Russian government was behind last week's release of DNC documents on the website WikiLeaks as a way to help Trump.
American intelligence agencies have told the White House they now have "high confidence" that the Russian government was behind the theft of emails and documents from the Democratic National Committee, according to federal officials who have been briefed on the evidence.

But intelligence officials have cautioned that they are uncertain whether the electronic break­in at the committee's computer systems was intended as fairly routine cyberespionage — of the kind the United States also conducts around the world — or as part of an effort to manipulate the 2016 presidential election.

The emails were released by WikiLeaks, whose founder, Julian Assange, has made it clear that he hoped to harm Hillary Clinton's chances of winning the presidency. It is unclear how the documents made their way to the group. But a large sampling was published before the WikiLeaks release by several news organizations and someone who called himself "Guccifer 2.0," who investigators now believe was an agent of the G.R.U., Russia's military intelligence service.
Even the Trumpenführer felt moved to address it today, though of course he filtered it through his narcissistic prism and missed the point entirely:
Funny how the failing @nytimes is pushing Dems narrative that Russia is working for me because Putin said "Trump is a genius." America 1st!

— Donald J. Trump (@realDonaldTrump) July 27, 2016
For the record, Putin never called Trump a "genius" — that description is rarely bestowed on the critter at the business end of the leash. Now release your tax returns like a good boy, Deadbeat Don.
PS: This episode removes all doubt (as if there were any) that Julian Assange is an unmitigated douchebag.