Donald Trump, back when life was just tyrants and skittles:
"I do have a relationship, and I can tell you that he's very interested in what we're doing here today," Trump told Roberts, when asked about his relationship with Putin. "He's probably very interested in what you and I are saying today and I'm sure he's going to be seeing it in some form. But I do have a relationship with him and I think it's very interesting to see what's happened…

…I mean look, he's done a very brilliant job in terms of what he represents and what he's representing," Trump said. "If you look at what he's done with Syria, if you look at so many of the different things, he has really eaten our president's lunch, let's not kid ourselves."
Donald Trump this morning:
STEPHANOPOULOS: Let's talk about Russia. You made a lotta headlines with Russia this week. What exactly is your relationship with Vladimir Putin?

TRUMP: I have no relationship with Putin. I have no relationship with Putin.

STEPHANOPOULOS: But if you have no relationship with Putin, then why did you say, in 2013, "I do have a relationship," in 2014, "I spoke–"

TRUMP: Because he has said nice things about me over the years. I remember years ago, he said something, many years ago, he said something very nice about me. I said something good about him when Larry King was on. This was a long time ago. And I said, "He is a tough cookie," or something to that effect. He said something nice about me. This has been going on. We did 60 Minutes together, by the way, not together together…
To his credit, The Clinton Guy Shocked By Blowjobs (™ Charles Pierce, but too damn good not to steal) pressed the Incompressible Jizztrumpet* just a wee bit on that bit of revisionist Trumpismo:
STEPHANOPOULOS: But– I– I just wanna clear this up. Because you did say, on three different occasions, you had a relationship with him. Now you say there's none.

TRUMP: Well, I don't know what it means by having a relationship…
Stephanopoulos asked Trump three times in all to square that circle, and by interview's end, the mangled apricot hellbeast seemed to realize he had a bit of a problem, leading to this weak finish to the line begun above with "Well, I don't know…"
I didn't meet him. I haven't spent time with him. I didn't have dinner with him. I didn't– go hiking with him. I don't know– I– I wouldn't know him from Adam except I see his picture, and I would know what he looks like.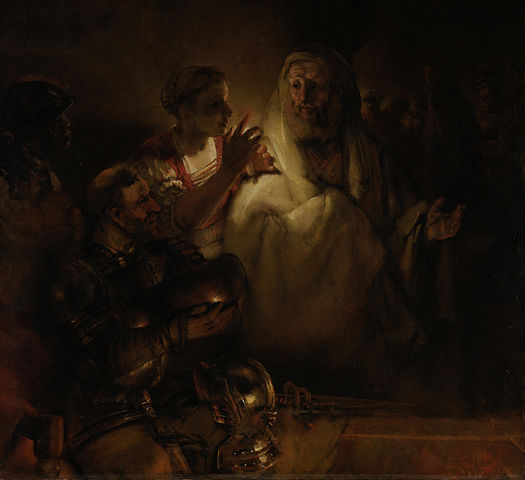 Beyond looking on in awe at the sheer speed and volume of Trump's lies (a strength to date, but, I'm coming to think, a growing liability in the general election phase), there's the meat of the interview, and his attempt to have it both ways on the Ukraine and Crimea:
STEPHANOPOULOS: Then why did you soften the GOP platform on Ukraine?

TRUMP: I wasn't involved in that. Honestly, I was not involved.

STEPHANOPOULOS: Your people were.

TRUMP: Yes. I was not involved in that. I'd like to — I'd have to take a look at it. But I was not involved in that.

STEPHANOPOULOS: Do you know what they did?

TRUMP: They softened it, I heard, but I was not involved.

STEPHANOPOULOS: They took away the part of the platform calling for the provision of lethal weapons to Ukraine to defend themselves.

Why is that a good idea?

TRUMP: Well, look, you know, I have my own ideas. He's not going into Ukraine, OK?

Just so you understand. He's not going to go into Ukraine, all right?

You can mark it down and you can put it down, you can take it anywhere you want.

STEPHANOPOULOS: Well, he's already there, isn't he?

TRUMP: OK, well, he's there in a certain way, but I'm not there yet. You have Obama there. And frankly, that whole part of the world is a mess under Obama, with all the strength that you're talking about and all of the power of NATO and all of this, in the meantime, he's going where — he takes — takes Crimea, he's sort of — I mean…

STEPHANOPOULOS: But you said you might recognize that.

TRUMP: I'm going to take a look at it. But, you know, the people of Crimea, from what I've heard, would rather be with Russia than where they were. And you have to look at that, also.

Now, that was under — just so you understand, that was done under Obama's administration. And as far as the Ukraine is concerned, it's a mess. And that's under the Obama's administration, with his strong ties to NATO.

So with all of these strong ties to NATO, Ukraine is a mess. Crimea has been taken. Don't blame Donald Trump for that.
The key soundbite, of course, is "The people of Crimea, from what I've heard, would rather be with Russia than where they were."
There's more:  Stephanopoulos's failure to press Trump on taxes (the Weasel-headed Fucknugget trotted out the audit excuse again, and Stephanopoulus let it pass); Trump's claim he has no business ties to Russia, no debt, the claim "I'm so liquid, I don't need debt," and the truly bold lie, "If I need debt, if I want debt, I can get it from banks in New York City very easily."  Err, not so much. Note also that Trump's sole remaining big-bank lender isn't exactly robust.)
All of which is to say that while Capt. Khan's parents make the overarching argument against Trump the person as president, this Russia stuff, and the question of who owns Donald Trump is the drip, drip, drip tale that reminds us that Trump the policy-maker poses a clear and present danger to American and global security.
In IOW, my friends, this interview is the sound of a story with legs.
*I find as I check the source that I misquoted yesterday's invective.  It was Cheeto-faced, ferret wearing shitgibbon, not as I had it:  "Cheetos-faced, ferret-topped shitgibbon.  The singular cheeto is clearly better, but I think ferret-topped scans better, so there.
Image: Rembrandt van Rijn, St Peter's Denial, 1660. ETA: It will reward you to click on the link and look at a full rez version of this painting.  Jesus being led away in chains on the right whilst Peter goes "No, no, no…." in glorious chiaroscuro.