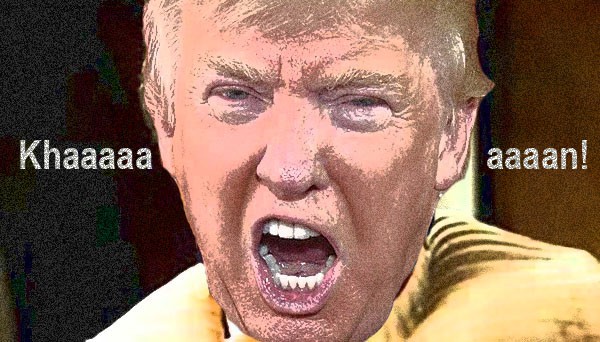 The Khans, the Gold Star parents who created a sensation at the Democratic National Convention, deserve our notice, and I'm glad the party gave them a platform to address Donald Trump's anti-Muslim bigotry. But given the frenetic pace of our news cycle, they would have quickly faded from the headlines if not for Donald Trump's overweening self-regard and inability to let a perceived slight go.
Thanks to his attacks on Mrs. Khan, who said nothing publicly against Trump at the DNC, the story carried through the weekend, with both Khans appearing on TV and Mrs. Khan penning a guest op-ed in the Washington Post. Good — any roadblock to the election of the dangerous demagogue Trump is a good thing. But surely Trump's advisers will pry his phone out of his tiny hands and let this story fade?
Nope. Trump kept it up over the weekend via Twitter, ensuring that more and more Republicans would be called upon to denounce him. A group of Gold Star families has also issued a statement demanding an apology from Trump. Then today, the Khans were on the CNN morning show and Trump responded via Twitter in real time:
Mr. Khan, who does not know me, viciously attacked me from the stage of the DNC and is now all over T.V. doing the same – Nice!

— Donald J. Trump (@realDonaldTrump) August 1, 2016
Un-fucking-real.
Trump's fired goon Corey Lewandowski, now receiving checks from CNN and the Trump campaign, was asked to respond as part of a CNN panel, and his answers made it crystal clear why he was such a good fit for the Trump organization, even past the day when his boss pointed a stumpy digit at him and dismissed him from the campaign.
While Lewandowski was filibustering the panel with Trump talking points, a woman affiliated with NY Democrats who was sitting next to him attempted a counterpoint, gently touching his arm as a signal that she'd like to get a word in edge-wise. Lewandowski's voice rose a few octaves as he shouted "Don't touch me!"
I noticed something new when the anchor was attempting to talk Lewandowski off the ledge: On that CNN show, at least, they aren't letting the lie that Trump opposed the Iraq War pass undisputed. And the next segment was going to cover Trump's seeming unawareness that Putin had already gobbled up a chunk of Ukraine.
I'm not in the business of predicting which outrage will ultimately sink Trump — or if indeed there's a limit past which he cannot go. The fact that he has made it this far as a credible candidate for president after the things he's said and done well before we'd ever heard of the Khans is an indelible stain on our national character.
But make no mistake; Trump is having a terrible week — of his own making — and the timing is awful, following as it does a successful Democratic National Convention. Trump couldn't have demonstrated Hillary Clinton's point about the unfitness of a leader who can be so easily baited any more effectively if that had been his sole object.