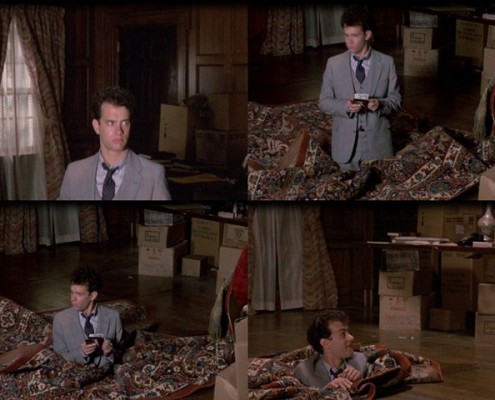 So I went over to the new house, and who do I find on the front porch but my father and his dogs, giving it the good German inspection it needs. My dad lives for this stuff, and has remodeled every child's home in the family and actually has a vision for this kind of thing. Where Devon and I see potential in stray animals and Seth and mom see potential in Pittsburgh Pirate reclamation projects, dad sees potential in homes.
"Good porch. House just needs to be powerwashed. Steps are solid. Need to rip up that carpet. This is going to be a beautiful home. Good place for a porch swing."
He walked off after a bit and I went around back to go in and feed and water and walk the dog and… promptly fell through a rotten plank in the deck. I just heard a crunch and I was suddenly four feet tall, in pain, and wearing a bucket of water and kibble. My right leg was balls deep through the porch, and I just sat there for a minute before I did anything. I didn't want to move because I didn't know if I had cut an artery on a nail or broken any bones and moving would make things worse, so I just pulled my shit together for a bit and had a giggle to myself about bringing this on by mentioning I hadn't had many injuries while sober.
I tried to call to Dad but he's deaf and didn't hear me, and he was already walking down the block talking to neighbors and telling them I would be moving in. Again, this is a small town and everyone knows everybody so dad was just doing his normal thing and walking around with the dogs spreading his particular brand of cheer.
I slowly pulled myself out, and I have scrapes and the like all over my legs, but no deep cuts. Got a massive bruise on my thigh and my upper leg hurts like hell and will for a couple days, but I will be ok.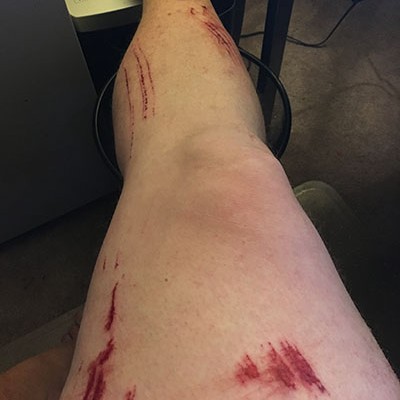 My right flip flop is still under the porch. It can stay there for the night and think about what it has done. But hold on. This story GETS BETTER.
I got up and fed the dog a little and gave him some water, and was driving around the block and saw my dad. Pulled up next to him and the dogs and started to say "Hey- guess what just happened" and before I could get it out he told me "Some of your neighbors told me there are some bad boards on the deck." He then said "Good thing it was you and not me," which is true because I am resilient and he is not, but also YOU ASSHOLE THAT'S THE FIRST THING YOU SAY?
I swear to god I almost killed him. So I guess I just added "GET TETANUS SHOT" to the to-do list tomorrow after "TAKE DOG TO VET" and "MEET REAL ESTATE ATTORNEY."
I swear- am I the only one whose life is like this? It's just one damned thing after another. I guess it's my density to just soldier on until one day I drop dead. And don't worry about paypaling me money for the dog, if he needs help I will let you all know.
*** Update ***
The dog is fine but I have no idea what his name is. He's very sweet and I am going to go see him tomorrow morning.
Second, I really am on top of the current injury, so thanks for all the advice, but I am good. I did what I normally do, which is just let it bleed out while trying to keep the dogs from licking me too much, and then I took a shower and scrubbed it, dried it off, let it air dry, and sprayed a little bacitracin on it. This is not my first rod(erp)eo. The scrapes hurt a little like your average strawberry, but there is some deep muscle pain on the outer thigh. I'm not going to take anything for it tonight or tomorrow because I want to be able to have a good gauge of how much damage I've done. I'll let the doctor look at it tomorrow when I go for a shot.
Remember- I'm pretty decent at handling physical pain. I'm sort of used to it. As I told someone else, I can break multiple bones and be ok, but if I cough a couple times I think I have lung cancer and act like Fred Sanford.