Thought we needed some new threaditude, so how about this?
Here's a screengrab from coverage of the Polyester Cockwomble's rally in Portland, ME*: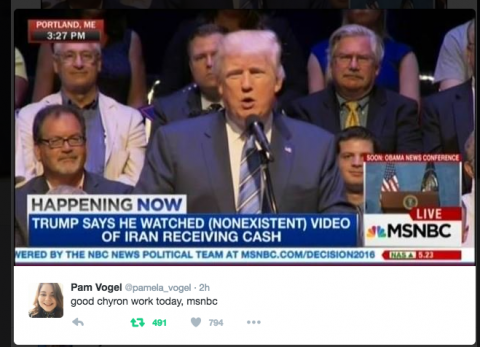 Death by parenthesis.  Couldn't happen to a nicer leather faced shit-tobboganist.
We've had too much celebration today.  Time for the snarling jackals to find some kittens to skull fu….
Oh wait.
This is a family blog.
As you were.
ETA:  Josh Marshall pointed this out, and I forgot to steal it here. As he put it, most campaigns spend at least some effort getting a crowd behind the candidate that looks kind of inclusive.  As you see in the shot above, and as I confirmed watching a few minutes of the rally, not this time.  Trump's got a phalanx of middle-aged, could-lose-a-few-pounds, white guys (there was one woman visible in the wide shots to Trump's right, but that was it as far as I could see).  And that's all.
To call this amateur hour is to insult everyone who's ever done anything for the love of it.
*Sic! Going after that crucial single electoral vote Maine might give a Republican — in very much the wrong district. Sad!