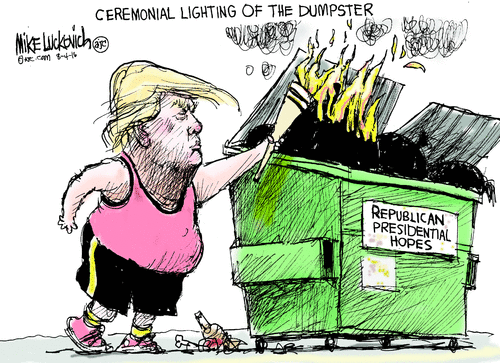 The best part of this?
Trump never sold himself as anything other than what he was. Party officials told themselves this was an act.

— Brandon Finnigan (@B_M_Finnigan) August 4, 2016
A little schadenfreude for breakfast, from the Washington Post — "Did Paul Ryan just predict that Clinton will win in a landslide?":
House Speaker Paul D. Ryan (R-Wis.) sent an urgent fundraising appeal Thursday evening that warned: "If we fail to protect our majority in Congress, we could be handing President Hillary Clinton a blank check."

Whether or not it was intentional, the phrase "blank check" has a political echo — one that suggests a deep fear by congressional Republicans that a sinking presidential candidate could take their majorities in the House and Senate with him, and that they are getting ready to desert him.

It goes back 20 years, to an infamous chapter in internecine Republican politics. In the weeks before the 1996 presidential election, as it became clearer and clearer that GOP nominee Bob Dole would not defeat incumbent president Bill Clinton, Republican operatives began urging their struggling congressional candidates to begin making the argument: "Let's not give Clinton a blank check."…

For Dole, the implication that even his own party had given up on him was a devastating blow.

One of Dole's top strategists that year was Paul Manafort, who is now Trump's campaign chairman. Dole's personal assistant was Michael Glassner, who has worked for Trump's campaign for more than a year. A number of other Dole staffers now work for Trump…

In the 1996 election, Republicans lost nine seats but managed to hold the House, the first time they had done so in consecutive elections in more than 60 years. This year, Republicans have a bigger cushion — their strongest House majority since 1930.

However, they also have a standard-bearer who is far more toxic. In 1996, Dole was viewed positively by most voters, even as he lost. Trump, on the other hand, has the most unfavorable ratings of any candidate ever to lead a major party ticket since the advent of polling…
I don't know if this is actually Ryan trying to gin up the remaining hardcore Repub base, or just an accident of phrasing coming back around to bite him in the butt. Either way, I applaud anything that sparks further infighting and mutual recriminations among the Disloyal Opposition…
**********

Apart from spectacular dumpster fires — at GOP headquarters, or in Rio — what's on the agenda as we wrap up the week?

Why is @realDonaldTrump's campaign sending out an email with headlines about his campaign imploding? pic.twitter.com/uqZX3gMo3b

— Emily Cahn (@CahnEmily) August 5, 2016
(Maybe Donald really is Max Bialystock, after all?)