It looks like the media has decided to resume its regularly scheduled Hillary bashing. Got to have a horse race to cover!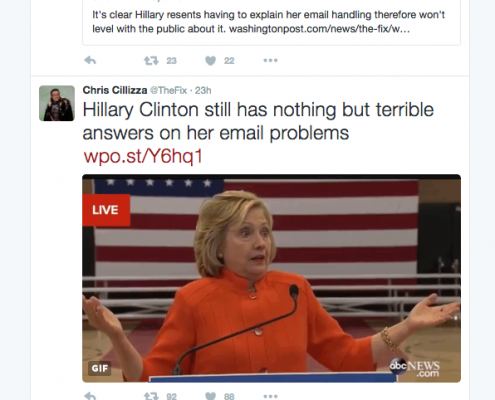 In a way, maybe it's just as well, given that the alternative is two months of Paul Ryan white knight fan fiction:
That basically allows the RNC to come up with any reason to declare the spot vacant. For example, they could, following President Obama, deem him unfit for office – as in, mentally unfit. Or they could hold a vote of no confidence. No doubt, if Trump is fighting them, that would be a bumpy road, possibly involving litigation. It might be easier for leaders to endorse Gary Johnson and move on. But because of that word "otherwise," it's likely within the RNC's power to dump Trump even without his consent. Then they would be able to fill the "vacancy" by majority vote.

Interestingly, that person could be anyone. Mike Pence does not automatically move up the ticket. On the contrary, unless Pence drops out (or is similarly found to be unfit, which seems impossible), he remains the nominee for Vice President, which, after all, is a separate office and a separate nomination. Most likely, the GOP's knight in shining armor, House Speaker Paul Ryan, would be a leading candidate for a last-minute substitution.